Cristiano Ronaldo has again spoken of his fondness for Manchester United, claiming he will be "coming home" when Real Madrid face the Reds in the Champions League next month.
One of United's greatest ever players, Ronaldo spent six years at Old Trafford and won three Premier League titles, two League Cups, an FA Cup, a Champions League title and the Club World Cup as well as a host of individual accolades, including the 2008 Ballon d'Or.
His return to Manchester on 5 March will ensure a rapturous welcome as United fans continue to chant Ronaldo's name at home and away matches.
"I had a feeling we would draw United," Ronaldo told Marca. "When it happened, I was really happy, although I know it will be a really tough knockout round. I'm aware that there will be a lot of attention on me, but that doesn't put me under more pressure at all. It's just a game of football against my old team. I'm not going to war, I'm going home".
"Manchester was my home and it still holds a special place in my heart. When people treat you really well, you never forget it."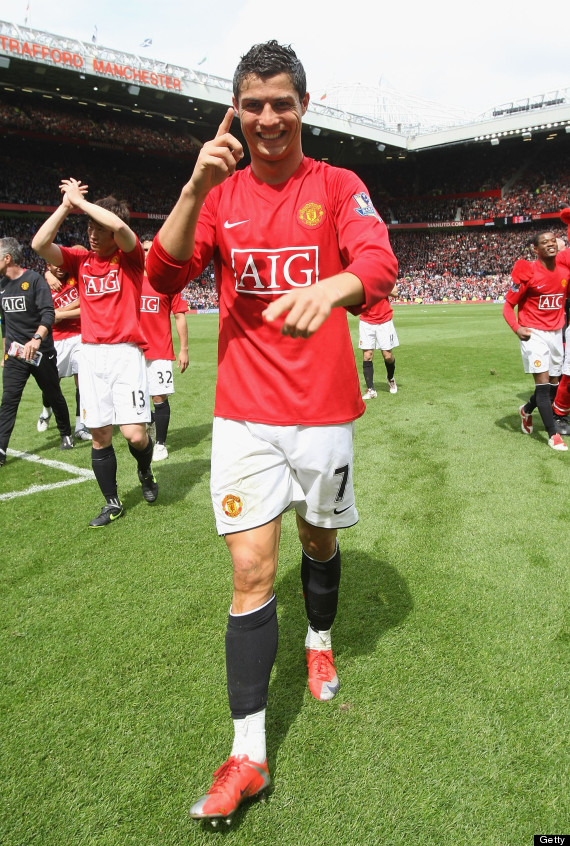 Ronaldo on his last appearance at Old Trafford, after United secured their 18th league title
Ronaldo could be forgiven for looking ahead to the Champions League tie after Real Madrid's latest humiliation in the Primera Liga.
The Portuguese scored an own goal in the 1-0 defeat to 16th place Granada, whose coach was sacked last week. Madrid are 16 points behind leaders Barcelona.
United meanwhile went nine points clear at the Premier League summit after a 1-0 victory at Fulham preceded Manchester City's 2-2 draw with Liverpool.
And Ronaldo was unhesitant when namedropping the inspiration behind his former club's form.
"United is the best team in England - it wins one of the titles every year. And it has a fantastic trainer in Alex Ferguson. We also have one though with José Mourinho. And he's my coach now, so obviously I hope Mourinho wins. It would be unfair to say that one is better than the other; it's like comparing a Ferrari and a Porsche. They are both really good".