Amidst water-tight security and flanked by armed police, one-eyed Dale Cregan arrived at court on Monday morning for the start of his trial for the murder of two police officers.
The burly 29-year-old, wearing a white T-shirt with a round, green-coloured symbol on the front, was taken into Preston Crown Court just before 11am and sat slightly apart from the nine other defendants, at the front right of the dock. A police van arrives at Preston Crown Court for the start of the court case
The dock was packed with Cregan, the nine other defendants and around 15 security guards as proceedings began in Court 1 amid high security.
In front of the dock, around 20 barristers, representing the defendants, sat in two rows as preliminary legal issues were discussed ahead of a jury being selected for the trial.
Cregan appeared relaxed and smiled at his co-accused as they waited for proceedings to begin.
The hearing began after Mr Justice Holroyde entered the courtroom and Cregan replied "Yes" when asked to confirm his name, read out by the clerk of the court, along with the other defendants.
Cregan is charged with the murders of father and son David and Mark Short in the months before killing Pcs Nicola Hughes, 23, and Fiona Bone, 32, in a gun and grenade attack.
Relatives of the two officers did not attend court.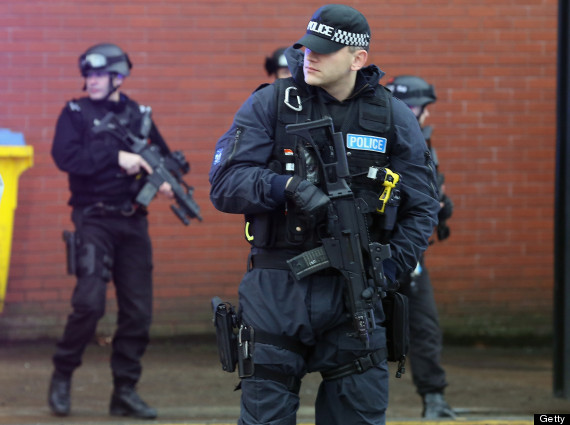 Armed guards outside Preston Crown Court
Cregan's co-accused are variously charged with helping or taking part in one of the four murders, firearms offences or assisting an offender.
All 10 will face a jury trial, having previously pleaded not guilty to all charges.
Pcs Hughes and Bone were murdered as they responded to a report of a burglary in Hattersley, Greater Manchester, on the morning of September 18 last year.
Four months earlier, former amateur boxer Mark Short was gunned down at the Cotton Tree pub in Droylsden, Manchester, on the evening of May 25.
His 46-year-old father was found dead on August 10 following a blast at a house in nearby Clayton.
Cregan, Leon Atkinson, 35, from Ashton-under-Lyne, Luke Livesey, 27, from Hattersley, Damian Gorman, 38, from Glossop, Ryan Hadfield, 28, from Droylsden, and Matthew James, 33, from Clayton, are all accused of the murder of Mark Short and the attempted murders of three others in the pub at the time - John Collins, Ryan Pridding and Michael Belcher.
Accused of the murder of David Short are Cregan, Francis Dixon, 37, from Stalybridge, Anthony Wilkinson, 38, from Manchester, and Jermaine Ward, 24. All four are also jointly accused of the attempted murder of Sharon Hark on the same day, and a single charge of causing an explosion.
Wilkinson is additionally charged with possession of a firearm with intent to endanger life and Mohammed Ali, 32, from Chadderton, Greater Manchester, is accused of assisting an offender.
Cregan alone is charged with the murder of the two police officers.