Ashley Cole is not so much a footballing Marmite as a Millwall. No one likes him but he doesn't care, and on Wednesday he will collect his 100th England cap 11 years, 11 months and 22 days since he made his Three Lions debut against Spain at Villa Park.
Cole will become a centurion in the next immediate England fixture after Steven Gerrard did in Sweden three months ago. The pair made their competitive debuts together in a 2002 World Cup qualifying win against Finland way back in March 2001, and have now extended the list of centurions to seven.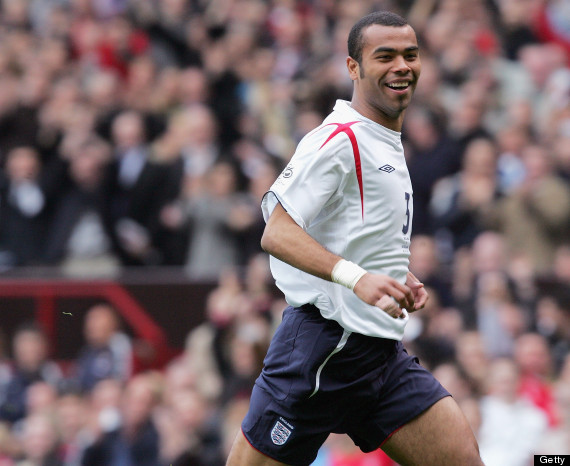 Cole celebrates Joe Cole's opener against Northern Ireland in March 2005
That the pair are still starting 12 years on is symptomatic of England's failings at international level. The dearth of quality and the aversion to bring in fresh faces sooner have hindered the national side's progress, but Roy Hodgson continues to persevere with failures of the 'golden generation'. Gerrard and Cole - experiencing underwhelming seasons - earning call-ups ahead of Rio Ferdinand just does not make sense. Should England qualify for next year's World Cup Gerrard will be captain, which seems ludicrous.
But back to Cole. On Wednesday night some of the attendants at Wembley will applaud him as if he was a burglar entering their house and considering how fickle the England fan is, some will have bought a ticket just to boo him.
Cole has been booed before, most memorably against Kazakhstan in October 2008 when an error gifted the visitors a goal. England won 5-1 and however much you may hate Cole the real problem was the pathetic Wembley attendants who booed a player during a game.
An automatic selection at left-back in England's greatest XI, Cole, now 32, can count himself fortunate if he is to start against Brazil. Leighton Baines is England's best left-footed full-back and after Hodgson stressed the importance of the Brazil friendly starting Cole just for the sake of nostalgia (it's happened before with David Beckham) would be further proof he is an incongruous choice for England manager.
Then again, it is only a friendly and the would be centurion has been superb for the majority of his England career, which has taken in three World Cups and two European Championships. So congratulations are in order.