Flushed with royal success after discovering the remains of King Richard III, archaeologists are to embark on their next 'great' mission: unearthing the final resting place of King Alfred.
Hunchbacked King Richard III rose from the grave on Monday, after historians confirmed that the battle-scarred skeleton found beneath a Leicester car park did indeed belong to England's last Plantagenet King.
Now scholarly heads have turned from Bosworth field to the King famed for his burning of cakes, with archaeologists applying for permission to excavate grave at a church in Hampshire, where the only 'Great' King England has ever seen may lie. Is King Alfred lying in an unmarked grave in Winchester?
It is not known how the Anglo Saxon king who ruled England from 871 to 899 died, but all his life he suffered with painful case of what is now believe to have been Crohn's disease.
He was originally buried in the Old Minster in Winchester, then moved to the New Minster. When the New Minster moved to Hyde, a little north of the city, in 1110, the monks transferred the remains of Alfred's body to Hyde Abbey, along with those of his wife and children.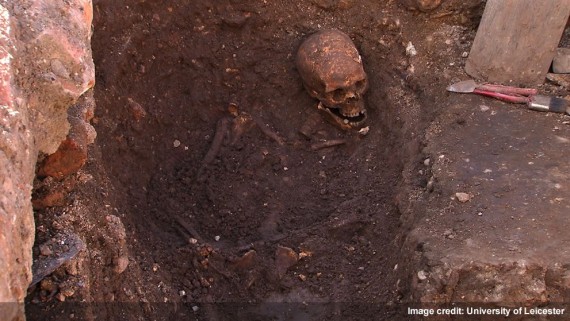 King Richard III has been found in a car park in Leicester
King Alfred the Great lay peacefully with his family for more than 500 years until the tumultuous rule of Henry VIII witnessed the dissolution of the monastries.
St Barthomew's church (located on King Alfred's place, no less) is now believed to own the land where the great monarch lies, but even if permission is granted to exhume the bones, there are likely to be complications identifying the skeleton. King Alfred as he is often depicted
Richard III's bones were confirmed as belonging to the Shakespearean muse through his Canadian descendent Michael Ibsen.
However Alfred died more than a thousand years ago. Katie Tucker, an archaeologist from Winchester University told The Times "the problem is where would we get a comparative sample from? It's a hell of a lot further to go back to trace a living descendent."