Scientists investigating a pollution spill which has killed and harmed hundreds of sea birds off the English coastline say the mystery substance is an oil additive.
A team from Plymouth University in Devon believe the sticky substance is PIB - polyisobutene, which has a chemical mixture ranging from oils to solids.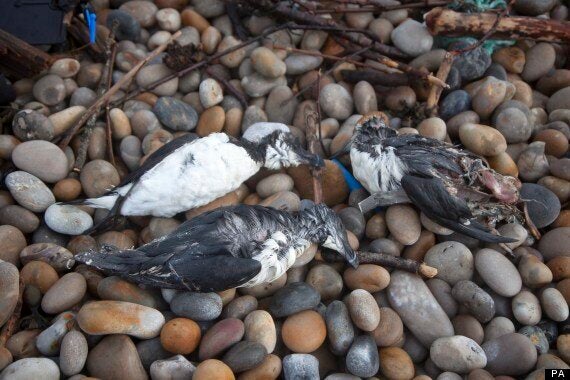 Hundreds of seabirds have been found dead on southern beaches
Professor Steve Rowland, who led the study following the discovery of hundreds of ill seabirds including guillemots along a 200-mile stretch of the south coast last week, said the substance was not believed to be toxic.
He said: "It (PIB) is used as an additive to lubricants.
"It is not toxic according to manufacturers, but it is very sticky.
"When it is caught up in the birds' feathers, it just glues them together. That was one of the things that made it so difficult to establish what it was."
Prof Rowland said the investigation was complicated by erroneous speculation last Friday that the substance was crude oil, as well as a lack of previous evidence of similar spills. He said the last known pollution of its kind was near Liverpool in 1994.
"This spill (in the south of England) was quite unusual," he added.
Despite the breakthrough, Prof Rowland said it was not possible to say whether the source of the pollution would ever be discovered.
He said the previous spill, nearly two decades ago, was thought to have been caused when a cargo ship's crew washed out its tanks.
"It has a consistency similar to wallpaper glue," he added.
"I've worked in crude oil for 30 years and we're as sure as we can be that this is polyisobutene."
Prof Rowland and his team - Dr Paul Sutton and Andrew Tonkin - said the substance is not toxic, and that it was its sticky nature which resulted in many of the birds dying due to being unable to feed.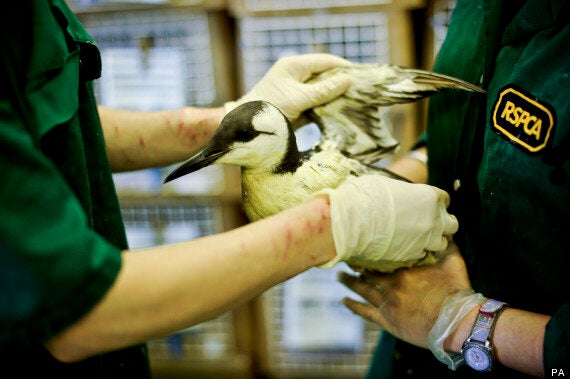 An RSPCA worker applies Stork margarine to the tail feathers of an affected bird
More than 250 birds, mostly guillemots and about 17 razorbills, were treated at the RSPCA West Hatch centre near Taunton, Somerset, over the weekend.
But conservationists predicted the number of dead birds is likely to have been hundreds more, as many could have been blown out to sea by prevailing winds.
Grahame Madge, of the RSPB, said: "It is quite likely that there have been many, many more birds affected who have no hope of rescue."
The society said the vast majority of the sea birds were rescued from Chesil Beach in Dorset but others were from the Isle of Wight and Cornwall.
West Hatch staff first tried to clean the birds with normal soapy water, which was not successful in removing the sticky substance.
Wildlife assistants had more success removing the sticky gloop after they cleaned them with margarine.
Popular in the Community