Jamaica's first female dub poet, who found fame in the UK, has described her delight at being awarded an MBE - despite criticism from a few of her friends.
Jean Breeze has been a leading light in performance poetry after moving to the UK in the 1980s, bringing a distinct Caribbean voice to theatres across the country.
In her poem 'The Garden Path', Breeze sets out her manifesto: "I want to make words/music/move beyond language/into sound."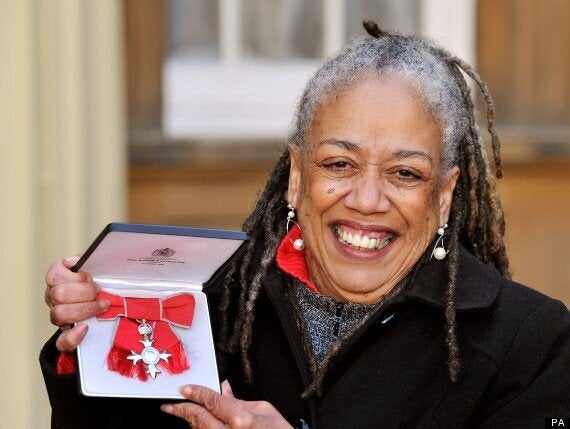 Jean Breeze collects her MBE
Speaking after an investiture ceremony hosted by the Prince of Wales at Buckingham Palace, the poet, who is affectionately known as Binta, said: "Obviously I've had a lot of criticism for accepting an award from the British Empire - some of my political friends are not too keen on that - but I myself am delighted, despite the history of empire."
She added that she learned about the honour after she returned to Jamaica last year following a period of illness.
"I had just moved back home to Jamaica and I was in a little fishing village called Sandy Bay, and there's a post office where we have to go to collect our mail because there's no addresses and street names and stuff.
"And I couldn't believe it, I said 'The Palace, why are they writing to me?' - so it was very special."
Breeze's career only took off when she was invited to Britain by Linton Kwesi Johnson, another major force in dub poetry, in which verse is recited against a reggae beat.
Binta, who was listed in the investiture programme under her real name Jean Breese, said: "Coming to England really developed my work. I was invited to teach at Brixton College, which had a lot of West Indian students, so I stayed on and taught for a few years.
"Then I started freelancing around the country, teaching creative writing workshops and performing.
"I'm very much a Third World voice, I speak for the oppressed and the dispossessed. It's a good thing, when you come to a great metropolis, to be able to bring the voice of your people with you so that they're not forgotten."
She went on to have a varied career writing a number of books of poetry and working as a screenwriter, dancer, actor and scriptwriter. Watch her perform some of her poems in the video above.
Popular in the Community