A wild snowstorm is battering the north east of America and Canada, in a fierce blizzard set to break all records.
Satellite images show the storm swirling over the US and with it high winds that could blow the snow into dangerous drifts. This NOAA satellite image taken Saturday shows the prominent winter storm
Many streets are deserted as swirling snow obscures all but the most prominent landmarks. Snow is cleared from a parking garage in the Back Bay neighbourhood in Boston, Massachusetts
Boston is expected to see up to three feet of snow, and some of the bleakest pictures of the blizzard are from Massachusetts. Snow falls on Copley Square in Boston A state of emergency has been declared across five states
In some states residents brave the crippling conditions for one final time to get supplies for the coming days. Traffic has been banned from the roads in Massachusetts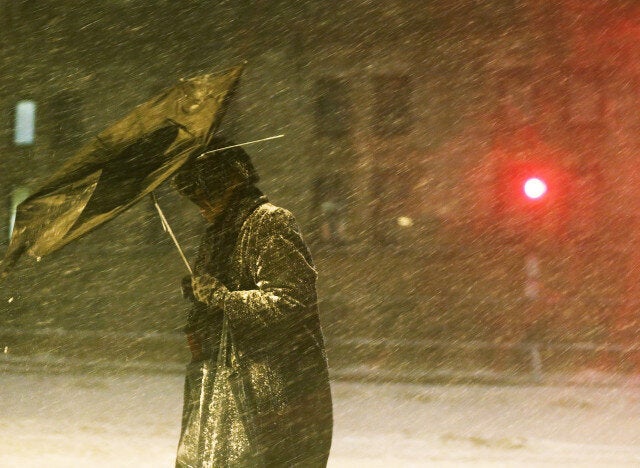 The driving snow has seen many take umbrellas when venturing out
This empty fridge at a supermarket in Massachusetts shows the panic buying that has gripped the state in the wake of the snow storm. Dramatic pictures from the north east show the extent of the weather front, hitting places that are already struggling to get back on their feet after superstorm Sandy.