Nearly four years have passed since Cristiano Ronaldo's world record £80m transfer from Manchester United to Real Madrid. So exasperated had United fans become with a saga which ran, on and off, for three years that at the 2009 Champions League final in Rome they joined in with Barcelona fans for a chorus of "F**k you, Real Madrid tra la la la la."
The relationship between Madrid and United had soured bitterly over the former's desire to sign the Portuguese. The Marca snippets and public pursuits had left Sir Alex Ferguson so angry he vowed he wouldn't sell Madrid - "that mob" - a virus.
Although the majority of United supporters shared Ferguson's weariness, the jibe risked ruining a rapport between two clubs which had lasted over 50 years. Real Madrid and Manchester United's joint history dates back to the hegemony of Alfredo di Stefano, Raymond Kopa and the Busby Babes in 1957. Madrid offered the United players who had survived the following year's Munich air disaster holidays in Spain as a bond was forged between the two biggest clubs in world football.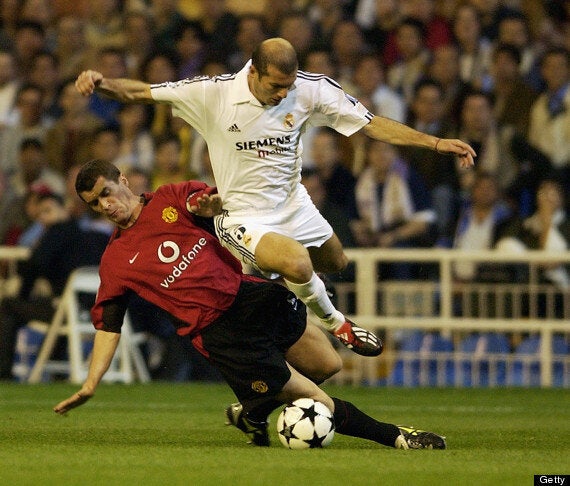 Roy Keane and Zinedine Zidane do battle in 2003
With the duo set to play each other for the ninth time on Wednesday, it is pertinent to recall the previous eight meetings.
REAL MADRID 3-1 MANCHESTER UNITED, 1957 EUROPEAN CUP SEMI-FINAL 1ST LEG
Manchester United's first season in the European Cup was also the first time an English club had ventured outside of the UK. Against the wishes of the pompous Football Association, Matt Busby emerged as British football's trailblazer as his Babes vanquished Anderlecht, Borussia Dortmund and Athletic Club Bilbao before their semi-final meeting with Real Madrid.
Inaugural winners of the European Cup in 1956, Madrid's experience saw off United with relative ease as the genius of Alfredo di Stefano, Raymond Kopa and Francisco Gento proved too much for the likes of Bobby Charlton, Duncan Edwards and Tommy Taylor in a 3-1 win.
MANCHESTER UNITED 2-2 REAL MADRID, 1957 EUROPEAN CUP SEMI-FINAL 2ND LEG
The first time a European match was shown on live television in the UK, a hint of United's maturity came in the return leg when they drew with Madrid. Charlton and Taylor got the goals, although Madrid had already raced into a 2-0 lead.
The abiding memory of that night is of Roger Byrne and Duncan Edwards attempting to carry the supposedly injured Manuel Torres off the pitch, only for the Spaniard to be dragged back on by his teammates.
MANCHESTER UNITED 1-0 REAL MADRID, 1968 EUROPEAN CUP SEMI-FINAL 1ST LEG
Decimated by what happened in Munich, United may have met Madrid in the 1958 final in Heysel had tragedy not intervened, so the clubs were drawn together again 11 years after their first encounters and in the last four again. Charlton was the only survivor in the United lineup from '57.
Just the one goal separated the teams as United, smarting from their failure to win the European Cup in 1966 having humiliated holders Benfica 5-1, had George Best to thank for the slender advantage they took to the Spanish capital.
John Aston Jr, whose father played under Matt Busby, exhibited tremendous wing play before pulling the bobbling ball back for an unmarked Best to smash an unstoppable shot past Antonio Betancort. Aston, an unsung hero of the '68 side, would go on to be man of the match in the Wembley final.
REAL MADRID 3-3 MANCHESTER UNITED, 1968 EUROPEAN CUP SEMI-FINAL 2ND LEG
For the return leg, the second Munich survivor Bill Foulkes returned to the United line-up but no one could possibly have known how seminal his presence would be.
Pirri and Gento put Madrid 2-0 up to cancel out United's aggregate lead only for Zoco to score an own goal with a minute of the first-half remaining. However Amáncio struck a potentially lethal blow to restore Real's two-goal advantage and aggregate lead.
Recollections of what Busby said at the interval are contradictory. Some United players said he was inspirational while Charlton has said he was shell-shocked by Madrid's dominance. United had been making comebacks since before Old Trafford was bombed during World War II and they were about to rally for one of their greatest on-pitch recoveries.
David Sadler levelled the tie at 3-3 on 73 minutes in an era when the away goals rule was yet to exist. Seven minutes later, George Best received the ball on the right wing and scoured for options, only to find the surreal sight of Foulkes, a defender, demanding the ball on the edge of the area. Best obliged and Foulkes slotted in one of the nine goals he notched in 688 appearances for United to send them through to their first European Cup final.
REAL MADRID 0-0 MANCHESTER UNITED, 2000 CHAMPIONS LEAGUE QUARTER-FINAL 1ST LEG
Madrid, in disarray and sixth in La Liga, got off easy as Sir Alex Ferguson's United, who had just obliterated West Ham 7-1, came looking for a 0-0 draw and got it, despite Andy Cole missing a sitter. Mark Bosnich was in outstanding form for an uncharacteristically negative Reds, with Roy Keane the most dissatisfied in his post-match interview.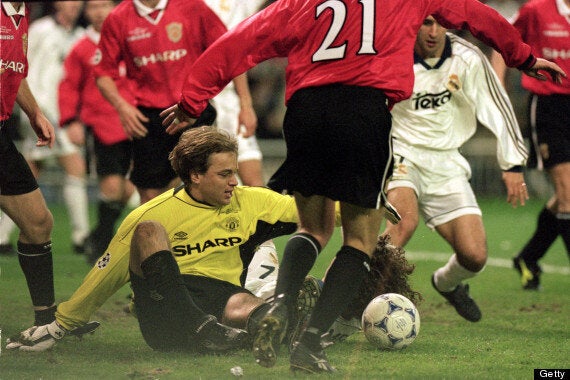 Mark Bosnich excelled in the Bernabéu
"No, we're disappointed, actually. Especially not to get an away goal," he told the upbeat press. Keane, obsessed with playing in a Champions League final having missed out in 1999, would be even more disappointed after the second leg.
MANCHESTER UNITED 2-3 REAL MADRID, 2000 CHAMPIONS LEAGUE QUARTER-FINAL 2ND LEG
United had lost just twice at home in their European history and despite the edgy scoreline from the first leg remained favourites to progress. And like in the previous year's knockout tie against Juventus, Keane intervened. Only at the wrong end.
With Bosnich injured again, Raimond van der Gouw returned in goal for England's champions-elect and his lack of communication with the Irishman resulted in Keane netting the only own goal of his Old Trafford career. United dominated the match but came unstuck against an 18-year-old goalkeeper called Iker Casillas. "Not normal," was how Ferguson described the Spaniard's performance.
After the interval Raúl pounced, curling in a delicate effort to effectively end United's defence of the European Cup before Fernando Redondo did this to Henning Berg before assiting Raúl for his second and Real's third.
David Beckham hit a brilliant solo reply and Paul Scholes smashed in a penalty, but unlike in Barcelona the previous year United could not repeat the last gasp salvo against Madrid, who went on to win their eighth European Cup.
REAL MADRID 3-1 MANCHESTER UNITED, 2003 CHAMPIONS LEAGUE QUARTER-FINAL 1ST LEG
"It's like football's equivalent of the Harlem Globetrotters," quipped an overwhelmed Ron Atkinson. At the height of Madrid's Galacticos era, Zidane, Figo, Roberto Carlos, Ronaldo, Raúl and co. gave a United side boasting Keane, Scholes, Giggs, Van Nistelrooy and Beckham the footballing lesson of their lives. Figo opened the scoring with a fortuitous lob before Raùl turned the naive Rio Ferdinand for a 2-0 lead at the interval which flattered the visitors.
Fabien Barthez, halfway through his career-ending tie with United, was culpable for the first two goals but was powerless when Raúl struck a sweet third. Van Nistelrooy headed in an away goal and an overawed Beckham fluffed a presentable chance during a spell of uncertainty for Madrid, but the Dutchman's goal was merely false hope.
MANCHESTER UNITED 4-3 REAL MADRID, 2003 CHAMPIONS LEAGUE QUARTER-FINAL 2ND LEG
A match renowned for persuading Roman Abramovich to buy a football club, this is not the classic it was immediately hailed as. Ronaldo's early opener killed off United's remote hopes of overturning or levelling the first leg deficit as the match became an exhibition upon David Beckham's arrival.
Playing his last European game for United, Beckham signed off with a glorious free-kick and the winning goal on his "special night". He was mortified when he returned home and re-watched the match, specifically after one of his set-pieces cleared Iker Casillas' crossbar.
"The camera cut away to the manager's reaction and my blood ran cold," Beckham's ghost writer explains in his autobiography. "His rage, his frustration; and it was all Beckham's fault." He would play just three more games for United before joining Madrid that summer.
The night however belonged to Ronaldo, who became the first player to hit an Old Trafford hat-trick since Dennis Bailey's trio for QPR in January 1992. Old Trafford, not for the last time, rose in unison to applaud a great Ronaldo.