Rupert Murdoch has hinted it may be time for The Sun's Page Three girls to join the UK's millions in the dole queue - telling a campaigner that the topless girls in the newspaper maybe "last century".
He was tweeted late on Sunday night by campaigner Karen Mason, and his response seemed to confirm long-rumoured reconsideration of the Page Three feature at News International headquarters.
Page Three has long been targeted by campaigners, but an organised group called No More Page 3 has been actively campaigning for the last year for companies to boycott The Sun, refusing to advertise in the paper until the Page Three girls are removed.
Lucy Holmes, the campaign's founder, tweeted on Monday that campaigners were "really pleased" by the hint dropped by Murdoch, but would continue campaigning until the page was dropped.
The group has held weekly protests outside News International, and won many celebrity supporters, including Jennifer Saunders, Lauren Laverne and Alastair Campbell.
Les Hinton, a former chairman of News International, said in response to Murdoch's tweet that the page had "jarred" for ages.
Mohan was forced to defend the page at the Leveson Inquiry, describing the topless girls as "good role models" who are "very healthy".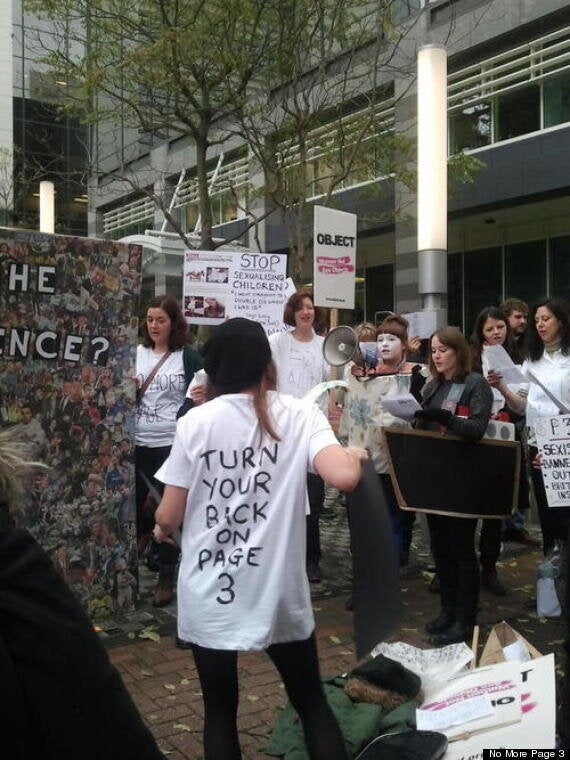 Campaigners outside News International's headquarters
"Some of the allegations I've heard about the Sun being sexist and not tackling women's issues is a false one. It [Page 3] is 42-year-old British institution that celebrates natural beauty," he said.
"It is worth looking at Page 3 in the wider context of women's issues that we cover."
"I think Page 3 is a matter of taste," he added later.
"Women simply aren't offended by it. Why shouldn't a girl stuck behind the bread counter at Tesco, an office girl down the local council, the unemployed, find a new glamorous life via Page Three?"
Popular in the Community