After a state-wide manhunt for a former policeman who went on shooting rampage in California, there are now conflicting reports over whether his body has been found in the rubble of a burnt-out cabin outside Los Angleles.
Christopher Dorner, who is accused of killing three people, was thought to have barricaded himself in the cabin in the ski-resort of Big Bear Lake after tying up two people, stealing their pick-up truck and driving up into the mountains earlier on Tuesday, according to local news reports. Christopher Dorner, a former police officer, went on a shooting rampage
Reports suggested rounds of gunfire were fired between Dorner and authorities, with two officers wounded in the exchange. However police are yet to confirm whether the ex-policeman was in fact killed in the stand-off. The cabin was burnt to rubble
Flames were seen engulfing the cabin from the air, but according to LAPD the building is still too hot to enter.
Dorner has been named as a suspect in the shooting of a police officer on February 7, as well assistant basketball coach Monica Quan, and her fiance, Keith Lawrence, a public safety officer at the University of Southern California on February 3. The following CCTV was released of Dorner following the shootings
Prior to the shootings, Dorner had wrote an online manifesto on his Facebook page detailing his violent plan.
He accused the police force of racism and vowed revenge on those he believed had ended his career.
"The Violence of action will be HIGH," Dorner wrote. "I will bring unconventional and asymmetrical warfare to those in LAPD uniform whether on or off duty ... You will now live the life of the prey ... I have the strength and benefits of being unpredictable, unconventional, and unforgiving." Scores of officers had been looking for Dorner
As many as fifty families had been under 24-hour protection after dozens were named as potential targets.
Monica Quan's father, Randall Quan, was the lawyer who had represented Dorner when he lost his job with the Los Angeles Police Department LAPD in 2009.
The 33-year-old was accused of fabricating evidence that his training officer had kicked a suspect with schizophrenia during an arrest.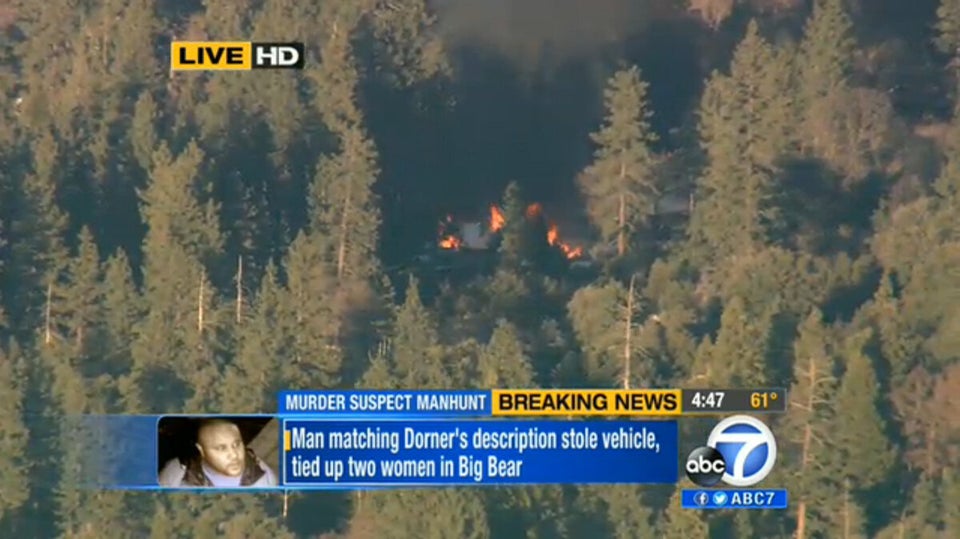 Christopher Dorner Manhunt