Bruce Willis's young co-star in the latest 'Die Hard' film reveals to HuffPost UK how, in the best boys' own adventure traditions of the franchise, he had to stop a plane to get to his final audition for the role.
"I was literally boarding the plane in LA when they rang and told me, 'We want to test you with Bruce,'" remembers Aussie actor Jai Courtney, who plays John McClane's son Jack in 'A Good Day to Die Hard', out this week.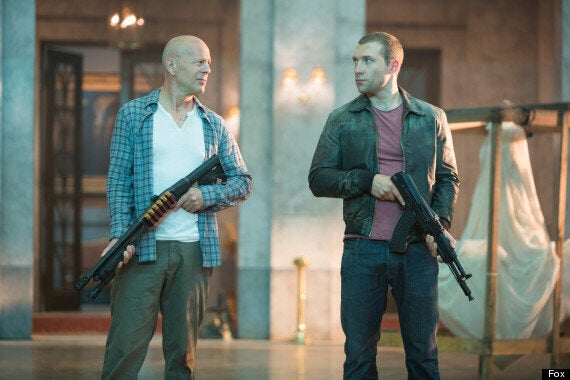 Jai Courtney (right) co-stars with Bruce Willis in the fifth 'Die Hard' outing
"I was THAT guy... 'I've got an emergency, you've got to get my bag off'... I didn't like to shout 'I've got a date with Bruce' but that's how it felt. I had to make it happen."
Fortunately, Courtney made it to his audition with the 'Die Hard' veteran where his efforts paid off...
"I walked away feeling good about the session. I remember feeling that, if nothing happens, that was a once in a lifetime kind of experience. We were together in the room for an hour and we had fun... but it was a still a month after that when I heard. In LA, you have to get used to that sequence of events. But then the whole shoot became thoroughly enjoyable."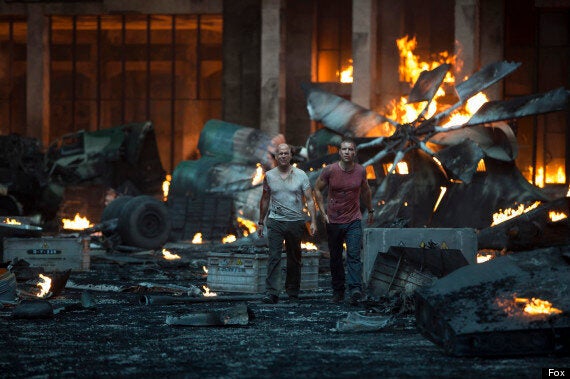 Fans of the 'Die Hard' films won't be disappointed by some of the set pieces in this latest McClane outing
In the story, the fifth outing for the franchise, John McClane believes his son to be on the wrong side of tracks when he goes to find him in Moscow. The truth proves to be - guess what! - more complicated, and the pair have to forge a relationship to outwit the baddies through a series of unsurprisingly high-octane encounters.
Was Courtney a massive fan of the series before he got involved? He shrugs...
"I know it makes a better story if I was a crazy fanatic about the films growing up, but I just liked them, like everybody else.
"I just thought they were cracking films, so iconic, and it's kind of surreal to think I'm now part of it."
'A Good Day to Die Hard' is in UK cinemas from Thursday 14 February. Watch the trailer below...