Environment Secretary Owen Paterson is to fly to Brussels on Wednesday for a horsemeat summit after two British processing plants were shut down as part of the inquiry into the scandal.
The Food Standards Agency (FSA), accompanied by police, swooped on a slaughterhouse and a meat manufacturer in both Yorkshire and Wales after apparently uncovering "a blatant misleading of consumers".
Peter Boddy slaughterhouse in Todmorden, West Yorkshire, and meat processing plant Farmbox Meats at Llandre in Aberystwyth, West Wales, had records seized and were temporarily shut down pending the outcome of investigations into claims they supplied and used horse carcasses in burgers and kebabs.
The FSA said it had "detained" all meat found at the premises and seized paperwork and customer lists from the two companies. Two British slaughterhouses have been dragged into the scandal
The news comes as Waitrose announced it has withdrawn its beef Essential British Frozen Meatballs after pork was bound in two batches.
Until now, meat linked to the scandal is thought to have come from suppliers in Europe, but for the first time it appears the contamination may also stem from British premises.
Andrew Rhodes, FSA director of operations, said: "I ordered an audit of all horse producing abattoirs in the UK after this issue first arose last month and I was shocked to uncover what appears to be a blatant misleading of consumers.
"I have suspended both plants immediately while our investigations continue." Paterson said the selling of horsemeat was 'completely unacceptable'
Paterson will later discuss the scandal with counterparts in EU countries.
He said: "This is absolutely shocking. It's totally unacceptable if any business in the UK is defrauding the public by passing off horse meat as beef.
"I expect the full force of the law to be brought down on anyone involved in this kind of activity."
Slaughterhouse owner Peter Boddy said he would co-operate with FSA officers and claimed they had not "raided" his Todmorden premises.
He told ITV: "It was not a raid - they are welcome to visit whenever they want, they just wanted to see my records which I will be showing them."
The Welsh Government minister for agriculture, Alun Davies, said: "Integrity and trust are essential in the food chain.
"I would be appalled if these allegations are proven.
"The Welsh Government is working closely with the Department for the Environment, Food and Rural Affairs (Defra) and the FSA to ensure this matter is dealt with swiftly and decisively."
The raids came as Mr Paterson met representatives of the Institute of Grocery Distribution, which represents food retailers and suppliers, to discuss plans for a new regime of quarterly testing of products.
Results of tests into the extent of contamination of beef products are expected on Friday.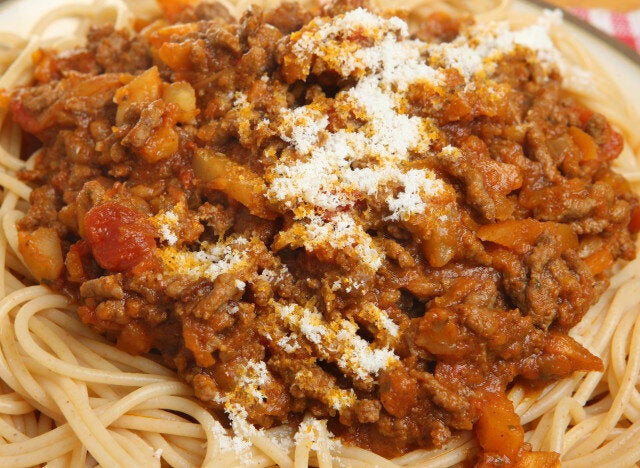 Tesco discovered a spaghetti bolognese contained more than 60% horsemeat
Supermarket giant Tesco on Tuesday became the latest retailer to drop a major supplier after discovering a range of spaghetti bolognese ready meals contained more than 60% horse meat.
It followed frozen food firm Findus and Aldi in finding the meat in products made by French firm Comigel and last night joined them in dropping the company as a supplier.
French consumer safety authorities said companies from Romania, Cyprus and the Netherlands, as well as its own firms, were involved.
Romanian authorities confirmed they are investigating while their Dutch counterparts said they are ready to do so if necessary.
But Romanian prime minister Victor Ponta has said his government had no evidence that any companies in Romania had broken any European laws.
The National Beef Association (NBA) has suggested the addition of the words "United Kingdom origin" to packaging to prevent "further cheating" by suppliers.