It's no secret we are a society consumed by scandal - from politicians to sports stars to A-list celebrities in the public eye, we all indulge in our weekly dose of gossip, reaching for our glossy magazines and scouring online news sites for all of the latest celebrity tirades.
But what is it about scandal that so thrills those of us who can't look away? Is it simple senseless gossip? Or is it that, in some way, we can relate, a little bit, to public humiliation, and we gain satisfaction in the escapism of indulging in other people's lives.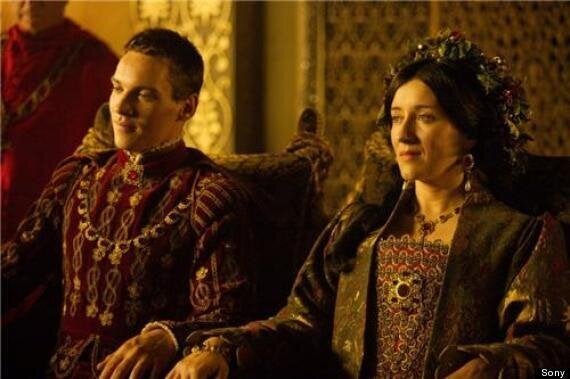 Henry VIII (Jonathan Rhys Myers) and Catherine of Aragon (Maria Doyle Kennedy) turned the English Church on its head when they divorced
For decades, the boundaries for being 'scandalous' have changed slightly and there's no better example as within the history of our very own Royal Family. They have their fair share of drama, from divorce to murder, and some of the past Royals were a bit more dramatic than others. These days getting a divorce and remarrying isn't such a scandal but when Henry VIII was doing it – it was unheard of.
The infamous King had his fair share of scandal during his reign, his notorious womanizing ways, as well as his six wives, who were either divorced, beheaded, dead or, in one fortunate case, outlived him, never mind the great lengths he went to divorce Catherine of Aragon – who was actually his brother's widow! - by breaking away from the church.
So to celebrate the King of Scandal (even by our standards) returning to our screens, we've put together a timeline of all time British Royal family drama for you to have a look at. The sex, scandal and politics of the Royal Family have been going on for decades! Who would have thought? Let's see if you find it as shocking as 'they' all did at the time...
The Tudors is back from the very beginning on Sony Entertainment Television, on Wednesdays at 9.05pm. (Sky Channel 157/Virgin 192)