A letter written by one of the 20th century's greatest writers has been uncovered after being hidden for 40 years.
It was sent by American poet TS Eliot to Jacob Isaacs, an author and lecturer at Queen Mary, University of London in 1957.
The document was unearthed during a project to catalogue the archives of Isaacs, who was a personal friend of Eliot.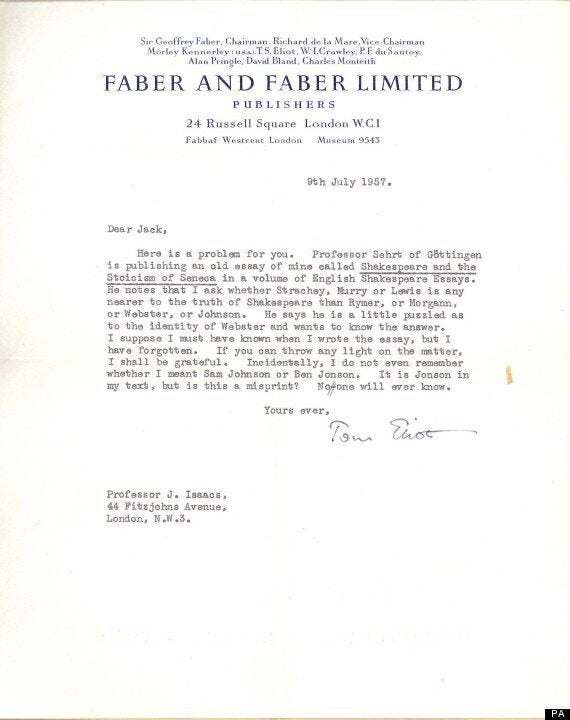 In the letter, Eliot writes that he cannot remember what he meant in one of his old essays, 'Shakespeare and the Stoicism of Seneca', which was about to be republished by a Professor Sehrt of Gottingen.
He asks Isaacs if he could "throw any light" on the identity of Webster, who was referred to in the essay.
Eliot concludes his letter on a pessimistic note by admitting: "Incidentally, I do not even remember whether I meant Sam Johnson or Ben Jonson. It is Jonson in my text, but is this a misprint? No one will ever know."
The letter was typed on Faber and Faber headed paper, indicating it was written at the publishing house where Eliot was employed as editor.
It was part of a collection donated to Queen Mary by Isaacs' wife upon his death in 1973.
Thomas Stearns Eliot was born in Saint Louis, Missouri, in 1888 and died in London in 1965.
In 1948 he won the Nobel Prize for literature, and is probably best known for 'The Waste Land', 'The Love Song of J Alfred Prufrock' and 'Old Possum's Book Of Practical Cats' - the inspiration for Andrew Lloyd-Webber's musical, 'Cats'.
Popular in the Community