Nothing says "I love you" like firing a semi-automatic weapon while renewing those wedding vows, eh?
If you're not attached, you might unwind on Valentine's Day by blasting holes in photographs of your ex, or visiting an indoor shooting range where the skimpily-dressed hostesses tote replica weapons and show you how to, er, hold your piece.
All this and more is on the table in Las Vegas, a city which in light of the Sandy Hook elementary school shooting, continues to show absolutely no sign of toning down the gun promotions. Lindsae MacDuff at the Gun store in Las Vegas after her 'shotgun wedding'
Meanwhile the Guns and Ammo Garage is offering free, yes free, vow renewals between 9-5pm on Valentine's Day with a little help from "Pistol Packing Preacher" Jimmy Mac.
But gun control advocates like Josh Sugarmann at the Violence Policy Centre, say the promotions trivialise the dangers of high-powered weapons. Bob MacDuff gets in on the pistol-packing action
He said: "These gun stores and shooting ranges offer bad puns in poor taste in their efforts to put a happy face on firearm, yet each day more than 86 Americans die from gun violence.
"While Las Vegas gun promoters present assault rifles with high-capacity ammunition magazines as harmless Valentine's Day propers, the vast majority of Americans understand their true role: military-bred weapons that threaten police and public safety."
As Americans continue to wrangle over the thorny issue of gun control, some ominous shots came over the parapet from National Rifle Association CEO Wayne LaPierre on Wednesday.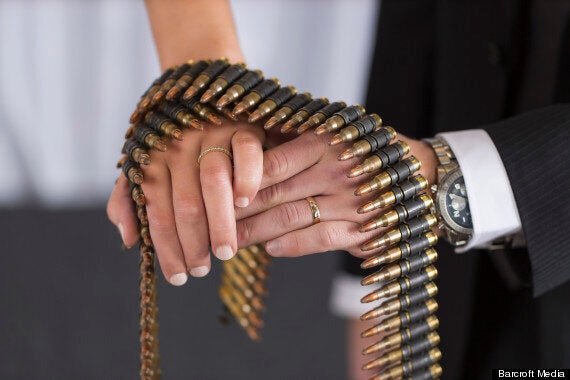 Bullet belts to seal our love: Shotgun weddings continue to be popular
"It's not paranoia to buy a gun. It's survival. It's responsible behavior, and it's time we encourage law-abiding Americans to do just that."
In January Huffington Post UK reported shotgun-themed weddings were continuing to boom - particularly in Sin City where organisers insisted no weddings had been cancelled in the wake of the Sandy Hook incident, which saw a gunman pick off 26 people.
Americans across the country took to social media to show off their potentially lethal stocking fillers, as it emerged the rush on guns and ammunition sales spiked to "unprecedented" levels ahead of December 25.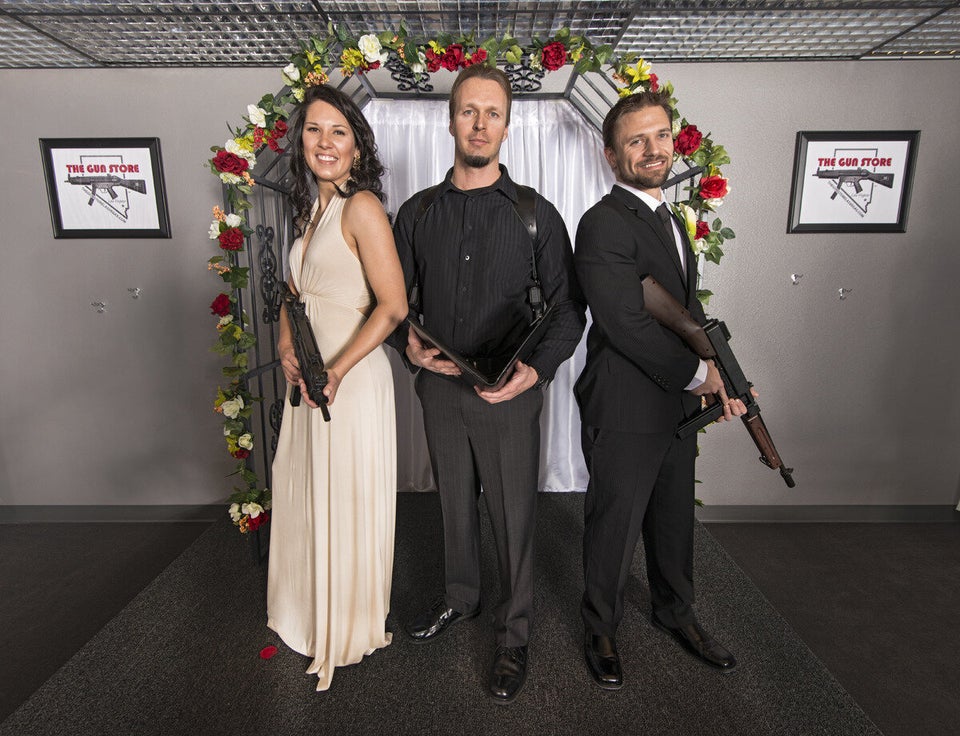 Shotgun wedding
Saying it with guns is not a new development by any means. Check out some of the vintage ads for American gun makers below: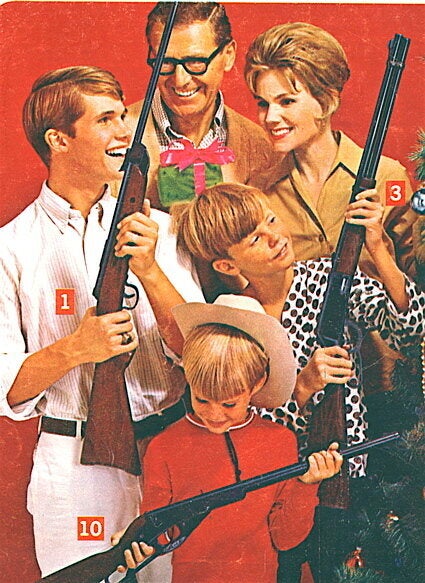 Vintage Gun Advertisements
Popular in the Community