Susan Sarandon and Hugo Weaving are two of the big names in what they said was the 'unfilmable' big screen adaptation of David Mitchell's epic bestseller - 'Cloud Atlas', in cinemas in the UK from next week.
In our exclusive clip above, these two stars discuss what makes the film so ground-breaking, and what their favourite transformations are in this magically real tale.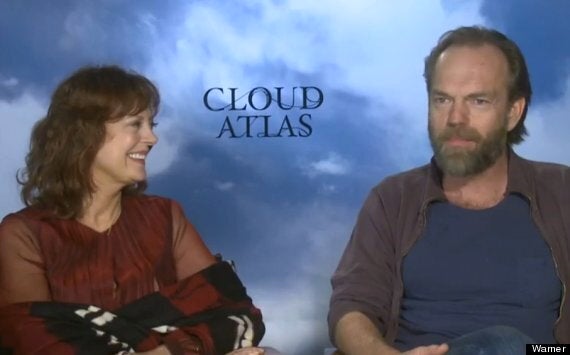 Susan Sarandon and Hugo Weaving team up to discuss their roles in 'Cloud Atlas'
To mark the latest cinema achievement by the celebrated Wachowskis (Andy and Lana) together with Tom Tykwer, HuffPost UK has an Exclusive Featurette chatting with these two about the film, which also stars Tom Hans, Halle Berry, Jim Broadbent, Jim Sturgess, Ben Whishaw and even Hugh Grant (not often he can be tempted to a film set these days!) - all playing multiple parts, just to help confuse matters and keep viewers on their toes.
'Cloud Atlas' explores how the actions and consequences of individual lives impact one another throughout the past, the present and the future. Action, mystery and romance weave dramatically through the story as one soul is shaped from a killer into a hero and a single act of kindness ripples across centuries to inspire a revolution in the distant future.
Cloud Atlas is in UK cinemas from 22 February. See more stunning stills from the film below...
Related