Demonstrators brought traffic to a standstill in central London today as they called on the Government to do more to help households struggling with soaring energy bills.
Campaign group Fuel Poverty Action formed a blockade outside the Department of Energy and Climate Change, in Whitehall, to urge ministers to act for families facing the choice between eating and heating.
Around 50 people, including many disabled and elderly supporters, blocked the normally busy route through the capital, causing long tailbacks.
They waved placards and chanted "energy for our needs, not for corporate greed", while two protesters handcuffed themselves to each other as they sat in the road.
Police were forced to divert traffic after some of the protesters refused to move from the road.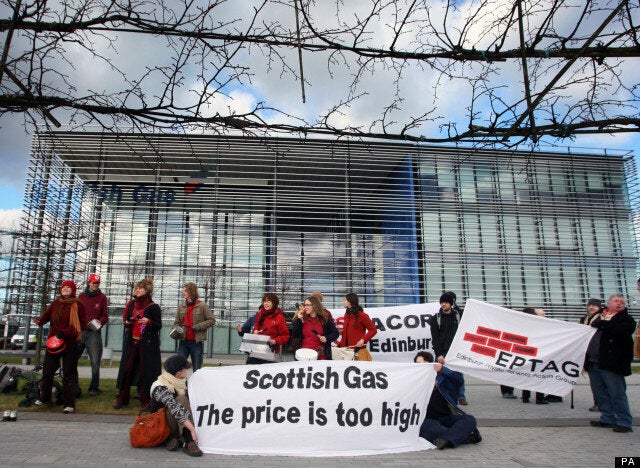 Fuel Poverty Action also protested outside Scottish Gas headquarters
The group eventually dispersed peacefully almost an hour after they began blocking the route.
Protesters had earlier taken part in a fuel bill assembly outside the department as part of a weekend of planned events called Stop the Great Fuel Robbery.
Campaigners shared their concerns about rising energy costs and plastered a poster to the front door of the Government building which read "can't pay, won't pay".
James Granger, from Fuel Poverty Action, said: "You hear some really terrible stories of people being forced out of their homes because they can't afford to keep the heating on.
"People are going hungry and they're freezing and they've come out to say enough is enough, they're not going to tolerate the Great Fuel Robbery any longer."
Rising energy costs have left more than six million households in the UK in fuel poverty because they spend more than 10% of their income on heating their homes, campaigners say.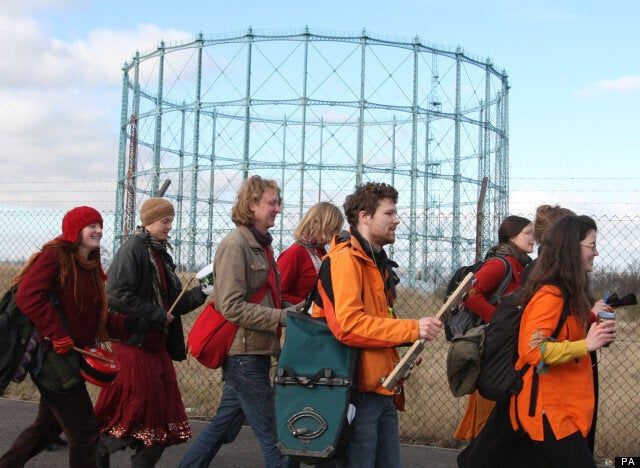 The groups were protesting fuel tariff rises across the board in winter
It comes after the so-called "big six" energy companies - British Gas, EDF, E.On, npower, Scottish Power and SSE - all increased their tariffs this winter, citing rising costs of wholesale gas.
Mr Granger added: "The problem is the big six companies' business models depend on staying on gas.
"Renewable energy would be cheaper but they're refusing to make that transition because their profits depend on gas."
Yesterday, demonstrators targeted the Edinburgh headquarters of Scottish Gas. Other protests are taking place in Nottingham, Lewisham, Haringey, Hackney and Southwark.
Elizabeth Ziga, from Fuel Poverty Action, said: "While we freeze in our homes and millions of us choose between heating and eating, the Government is snugly in bed with the big six energy companies.
"Hand in hand, they're plotting to increase our dependence on dirty and expensive gas power, which will mean even higher fuel bills as well as rising food prices due to climate change.
"With yearly price hikes, soaring big six profits and unnecessary and unjust Government cuts, the Great Fuel Robbery has gone on too long.
"This weekend, across the country, people are coming together to say enough is enough and to fight for the alternative: clean, cheap renewable energy produced for the benefit of communities, not for the benefit of politicians and their energy executive allies."