The trauma of war can have a devastating impact on the smallest people: children.
Street Artist Slinkachu has taken the injustice of child victims of war to a literal level, by placing miniature models in scenes of conflict in playgrounds, as part of an O2-commissioned art piece to support the 20 Years of War Child exhibition at the British Music Experience.
The three original artworks show Slinkachu's trademark of tiny models in everyday urban landscapes, juxtaposing the innocent setting of a playground with children in war-torn scenarios.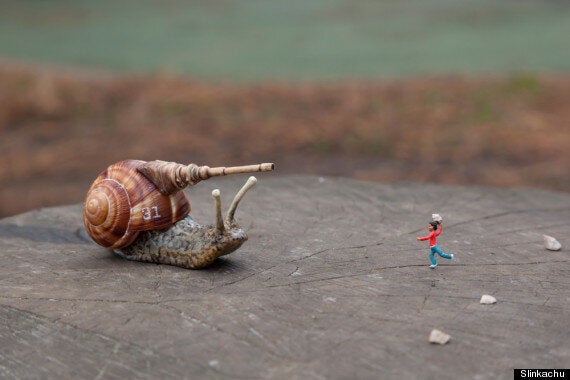 A snale takes aim at a miniature model of a child in Slinkachu's new work.
"My work plays with the notion of surprise and I aim to encourage city-dwellers to be more aware of their surroundings," said Slinkachu, "[I aim] to reflect the loneliness and melancholy of living in a big city, almost being lost and overwhelmed ... underneath this, there is always humour."
Commenting on the newly commissioned pieces, Slinkachu said: "I've been keen to [work on] something dealing with the impact that war has on the often voiceless victims of conflict - children. My work features the unheard, the unseen, the forgotten."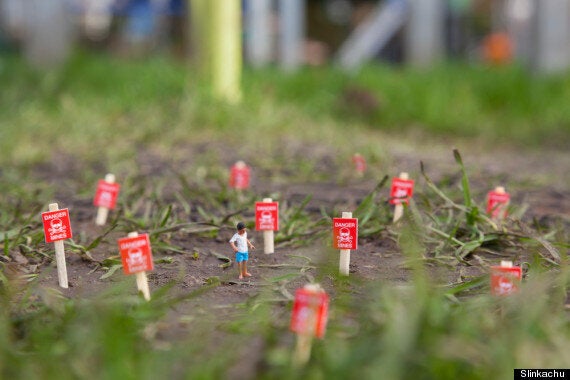 A miniature model of a child is seen surrounded by deadly mines in Slinkachu's new work.
Slinkachu's new work can be seen as part of the six-week long exhibition, hosted at the British Music Experience at the O2, chronicling the War Child's history and its relationship with music.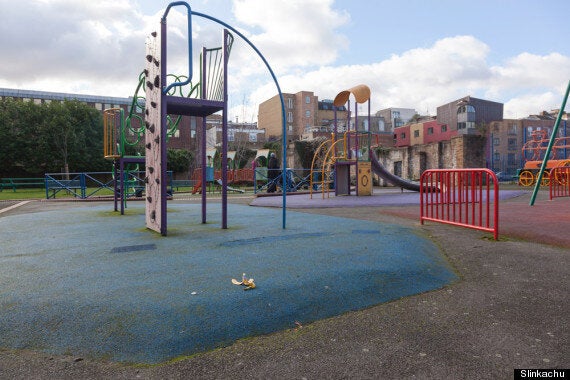 The playground in Little Dorrit Park, London, where Slinkachu created some of his new work.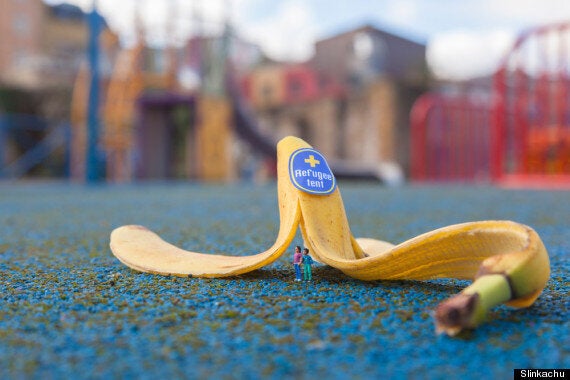 Miniature models of children take refuge under a discarded banana skin in Slinkachu's art.
The 20 Years of War Child exhibition, supported by O2, will also feature unseen photographs by iconic photographers, such as Mary McCartney, offering glimpses of globally renowned artists.
The 20 Years of War Child exhibition is at The O2, London, 19 Feb - 28 Mar 2013.
Flick through some of Slinkachu's previous work: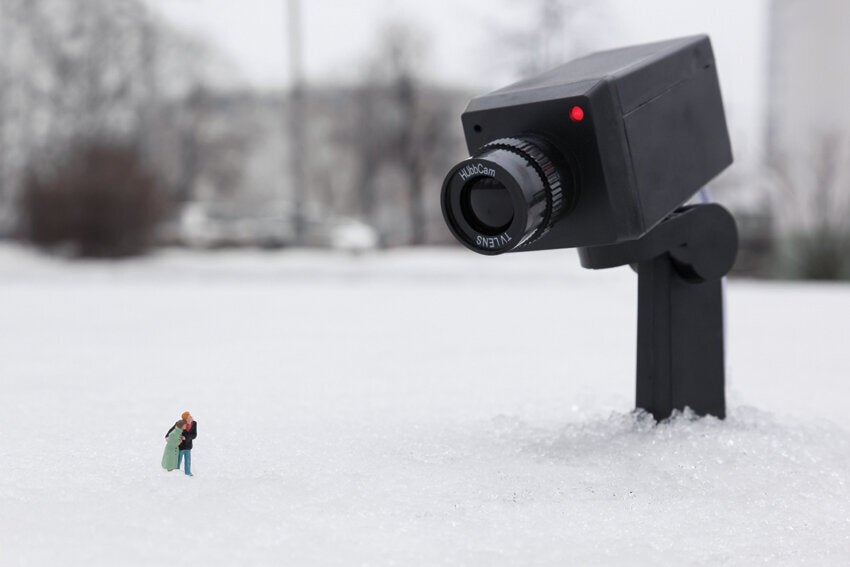 Global Model Village
Related