A strike by BBC journalists over jobs has disrupted programmes, including the flagship Today on Radio 4.
TV news was also hit by the 24-hour walkout by members of the National Union of Journalists in protest at compulsory redundancies.
Michelle Stanistreet, NUJ general secretary, led journalists out of the building at the BBC's central London studios at midnight at the start of the walkout.
Picket lines were mounted outside BBC studios and offices across the UK and the union said the strike was being well supported.
The Today programme was not broadcast at its usual time of 6am. Instead of hearing the dulcet tones of John Humphries and Evan Davies, listeners heard pre-recorded shows on high street closures and the Pope's resignation.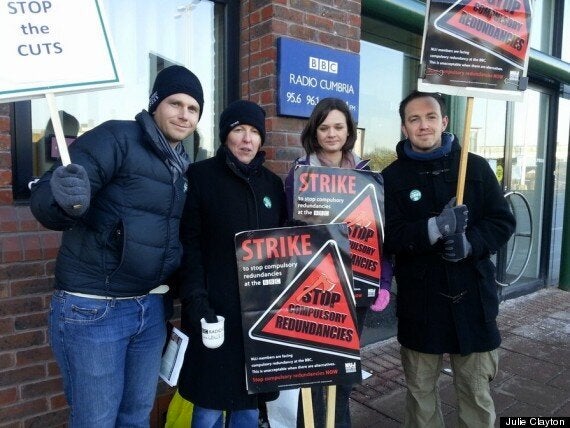 BBC Cumbria staff on strike
BBC1 Breakfast viewers saw Bargain Hunt and Escape to the Country instead of Bill Turnbull.
Radio 5 Live Breakfast show went on air at 6am with stand-in presenters.
World at One and PM have both been cancelled. BBC2's World News at 11.30am will be replaced by an episode of Coast.
Ms Stanistreet, said: "NUJ members across the BBC are taking action to defend jobs and quality journalism at the corporation. They are angry and frustrated at the poor decisions being taken at the top of the BBC - decisions that are leading to journalists being forced out of their jobs and quality journalism and programming compromised.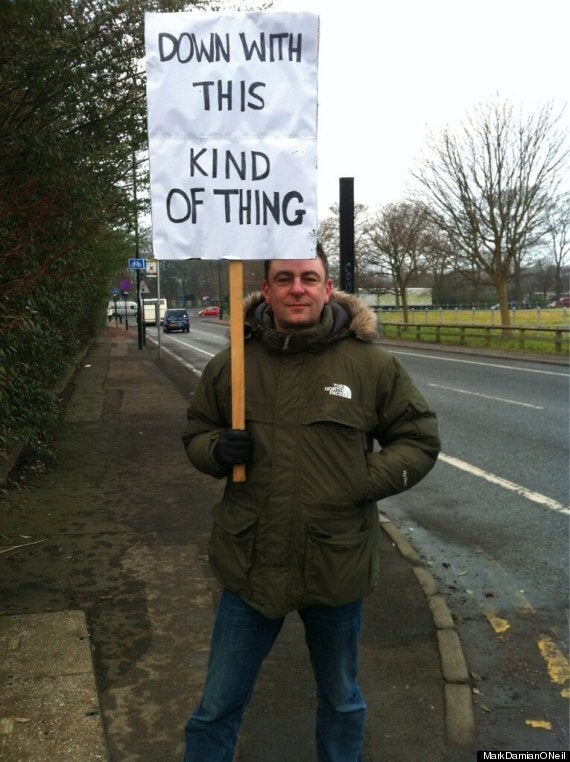 BBC TV reporter Mark Damian O'Neil with his homemade sign at BBC Newcastle
"Instead of making sure that the redeployment process works properly in all areas of the BBC, managers are prepared to waste public money on needless redundancies and sacrifice the livelihoods of experienced and talented journalists, at the same time as advertising other jobs externally.
"It's particularly disappointing that the BBC has failed to engage meaningfully in attempts to resolve this dispute - an abdication of responsibility for a public service broadcaster."
The NUJ said its members across the BBC - in Scotland, in BBC South, the Asian Network, Newsbeat, Five Live, the World Service and English Regions - were at risk of compulsory redundancy.
A BBC spokesman said: "We understand how frustrating and difficult situations involving redundancies can be, but it is disappointing the NUJ have chosen to take this action.
"We are working hard to ensure that we succeed in getting staff redeployed wherever we can and will continue to work with the unions to ensure that their members receive the right redeployment support."
Many BBC TV stations and radio channels have had to broadcast old programmes
A BBC spokesperson said: "We are disappointed that the NUJ has gone ahead with today's strike and apologise to our audience for the disruption to services.
"Unfortunately industrial action does not alter the fact that the BBC has significant savings targets and as a consequence may have to make a number of compulsory redundancies.
"We have made considerable progress in reducing the need for compulsory redundancies through volunteers, redeployment and cancelling vacant positions and we will continue with these efforts."
Related