An image of a tattoo on the chest of a breast cancer survivor is going viral on Facebook - because the social networking giant apparently kept removing it.
The shot, which shows the torso of a woman who has had a double mastectomy and an elaborate tattoo across her chest, is currently posted on the page for Custom Tattoo Design.
Accompanying text reads: "Facebook keeps removing the post as an offensive photo, due to nudity. However, we feel this woman is both brave and strong, so we're going to post it anyway and ask for your awareness and support."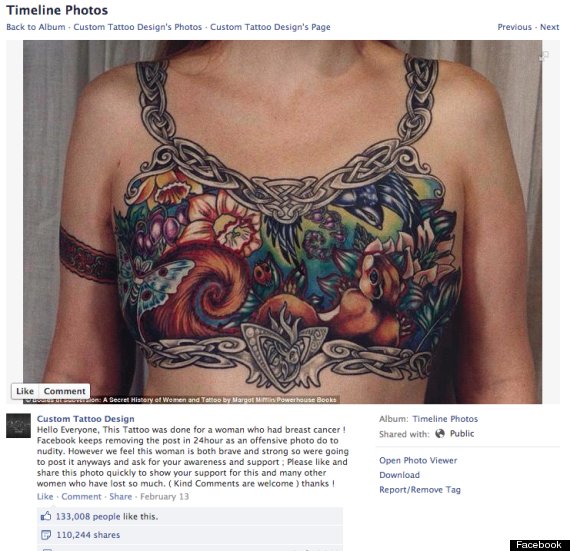 The tattoo is featured on the Facebook page for Custom Tattoo Design
The image, taken from the book Bodies of Subversion: A Secret History of Women and Tattoo, had been shared over 110,000 times at time of press.
More than 16,000 people have left comments, with the majority in favour, although some back Facebook's policy on nudity, stating "rules are rules".
Others praise the image for being "courageous and beautiful" and accuse Facebook of censoring breast cancer awareness.
Lee Roller, CEO of Canada-based Custom Tattoo Design told Huffington Post UK: "Facebook originally banned it from two other sites so when the image came to me I wanted to get the word out as fast as I could.
"We've had dozens of women contact us regarding having us design these tattoos and we will be doing several in the weeks to come. It's exciting for us as a company to back something this strong and we feel its taking two very different lifestyles and pulling them together."
SEE ALSO:
Roller tells us he has since been contacted by Facebook and has been informed the image will not be removed again, but he adds some independent Facebook users have asked for it to be taken down.
"I have firmly let them know we will not remove the photo and in most cases I have removed these individuals from our site."
The terms governing nudity and pornography on Facebook currently read: "Facebook has a strict policy against the sharing of pornographic content and any explicitly sexual content where a minor is involved. We also impose limitations on the display of nudity. We aspire to respect people's right to share content of personal importance, whether those are photos of a sculpture like Michelangelo's David or family photos of a child breastfeeding."
(Facebook has repeatedly come under fire for removing pictures of breastfeeding mothers, citing a violation of terms where photos feature a fully-exposed breast.)
In November last year Facebook flunked an "alertness" test run by web magazine Theories of the Deep Understanding of Things.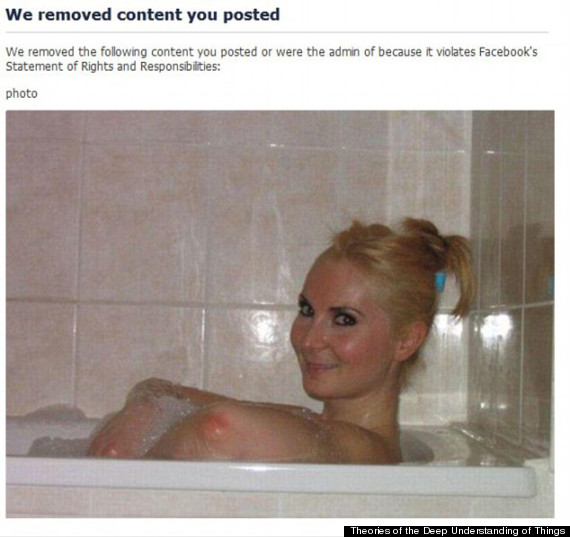 This image was removed and then reinstated from the Facebook page for Theories of the Deep Understanding of Things
The group posted an image of a blonde woman in a bathtub, which was swiftly taken down, after moderators apparently confused her elbows for her nipples.
An apology was forthcoming and the picture was eventually reinstated.
In 2011 images from photographer Michael Colanero's 'Breast Cancer Awareness Body Painting Project' were removed from the site. (You can see the banned images here.)
The gallery featured photographs of the painted breasts of 25 post-mastectomy breast cancer survivors and was deemed "pornographic".
Colanero told Huffington Post he was "devastated" over the images' removal and the negative effects being labelled "pornographic" would have on cancer survivors.
He added: "Not a single one of our images have been returned. At one point or another every image of our survivors has been removed - some multiple times."
He also points out the existence of a Facebook group numbering some near 600 members, entitled 'Stop Facebook deleting our cancer photos in our cancer groups'.
It was set up by breast cancer patient Melissa Tullett, who had her account deactivated after posting a picture of her reconstructed breast on her wall.
The Huffington Post UK has made enquiries with Facebook about this incident and awaits a response.