Women aged 40-42 who are having fertility problems should be offered IVF on the NHS, according to guidelines published on Wednesday by the National Institute for Health and Clinical Excellence (Nice).
Previously, Nice did not recommend IVF for women older than 39.
The guidelines also recommend IVF treatment for eligible women who have been unable to conceive after two years of regular intercourse - one year earlier than previously recommended.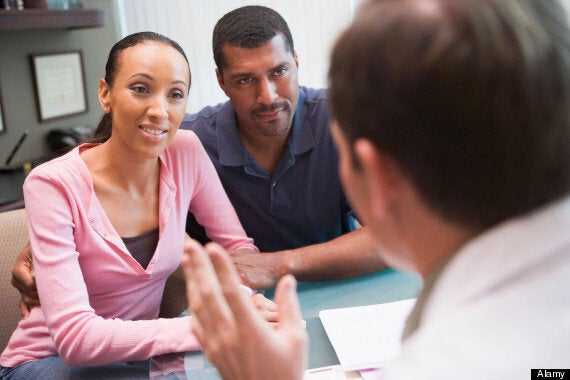 Women over 40 should be offered IVF on the NHS, says Nice
They also cover women who have been having artificial insemination, which can include same-sex couples. This is the first time these have been officially included in the guidelines, which were originally drawn up in 2004.
The guidelines say women aged 40-42 who have not conceived after two years of regular unprotected intercourse or 12 cycles of artificial insemination should be offered one full cycle of IVF, if they have never previously had IVF treatment.
Where women are under 40, and have not conceived after two years of regular intercourse or 12 cycles of artificial insemination, three cycles of IVF should be offered.
Scroll down for 10 things you didn't know about fertility
Nice chief executive Sir Andrew Dillon said: "Infertility affects more people than you might think; around one in seven heterosexual couples in the UK.
"We know fertility problems can have a potentially devastating effect on people's lives, causing significant distress, depression and possibly leading to the breakdown of relationships.
"The good news is that, thanks to a number of medical advances over the years, many fertility problems can be treated effectively.
"It is because of these new advances that that we have been able to update our guideline on fertility, ensuring that the right support, care and treatment is available to those who will benefit the most."
Tim Child, consultant gynaecologist and director of the Oxford Fertility Unit, who helped develop the guideline, said: "Many women do conceive naturally in the 40-42 year age group, but for those who can't, and who have been diagnosed with the medical condition of infertility, then improvement in IVF success rates over the last decade mean that we are now able to offer cost effective treatment with a single IVF cycle.
"This decision was taken after considerable discussion and close analysis of the available evidence."
On same-sex couples, a spokeswoman for Nice said: "With the advancement of medical technology and techniques such as donor insemination, same-sex couples are now able to become parents.
"Infertility is a medical condition that can be caused by a past illness or underlying medical condition and can affect anyone, regardless of sexual orientation. Infertility can also cause real suffering and can lead to depression and the break-down of relationships.
"This is the first time same-sex couples have been included in NICE guidance on fertility. In terms of fertility treatment, same-sex couples only account for a small proportion of NHS patients - around 5%.
"However, it is important that we are sure that everyone who has this distressing medical condition has access to the best levels of help."
A full cycle of fresh IVF can cost the NHS around £3,000.
The National Infertility Awareness Campaign (NIAC) warned that as NICE guidelines are not mandatory, fears still remained over local implementation.
Chairwoman Clare Lewis-Jones said: "By updating the fertility guideline and extending the range of people it is recommending receive treatment, NICE clearly understands the impact which infertility has on people. And we must be clear that infertility is a medical condition that causes significant distress for those trying to have a baby and has a devastating impact on people's lives.
"We know infertility can be treated effectively and thousands of people have become parents after fertility treatment.
"The current 'postcode lottery' approach to the treatment of infertility here has gone on for far too long and it is vital that the Government supports the measures in the updated guideline and communicates the need to implement them to those who commission fertility services in the NHS.
"We know the current system leaves many people unable to access NHS treatment and we need reassurance about the future of NHS fertility treatment as we move towards GP commissioning in 2013.
"The new guideline gives hope to more infertility sufferers - but it is pointless if the recommendations are not put into practice. People are suffering every day because some PCTs have continually flouted the NICE guideline.
"Infertility requires specialist knowledge and GPs are, by their very definition, generalists.
"Over 50% of respondents to our patient survey last year found their GP lacked sufficient knowledge on infertility and this worries us.
"NIAC is willing and able to work with the Government to close this knowledge gap so that access to fertility treatment is improved in the new NHS."
The Royal College of Obstetricians and Gynaecologists said the new guidelines offered more choice to women trying to conceive up to the age of 42.
President Dr Tony Falconer said: "We welcome the updated guidelines and support that people experiencing fertility problems should be able to get the most appropriate and effective medical treatment and in a timely fashion."
He added: "We strongly endorse the recommendation that single embryo transfer is used if possible for women aged 39 and under. We know that replacing more than one embryo in the uterus can result in a multiple pregnancy, which carries a higher risk of complications, therefore a reduction in multiple births would have major benefits to both mother and child.
"We are aware that maternal age has risen over the years and that it is harder for older women to conceive naturally. The recommendation that IVF treatment be made available up to the age of 42 provides more choice for women but they should still be aware of the increased risks associated with pregnancy at advanced maternal age."