UPDATE: Dave Thomas 'Threatens To Sue Maria Sanchez After Photographer Who Helped Reunite Him With Pit Bull' (VIDEO)
A man has been reunited with his beloved dog after a photograph of him tearfully comforting the hound through the bars of a shelter went viral.
Dave Thomas lost ownership of pit bull mix Buzz Lightyear after being briefly jailed for failure to appear in court for traffic offences.
Upon his release, he went straight to San Bernardino City Animal Shelter to collect his pet, but was left devastated after being told it would cost $400 (£260), a sum he just didn't have, KABC reported.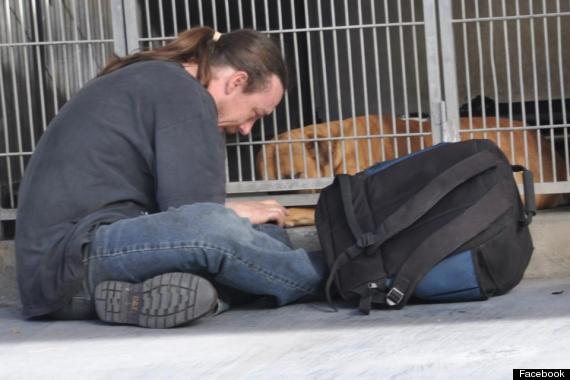 Dave Thomas weeps as he tries to comfort pit bull Buzz Lightyear
According to LAist, the shelter considered Buzz a stray and would only release him if the shelter fees were paid in full.
As Thomas sobbed by Buzz's cage, he was surreptitiously snapped by visiting photographer Maria Sanchez.
"He was pouring water into his dog's water bowl, his dog sat there and licked up the water for about a minute, he sat down next to him and started weeping," Sanchez told KABC.
SEE ALSO:
She posted the photo to Facebook, where strangers pledged to help the man.
Since Thomas had not left any contact details with the shelter, a social media search began and donations began to pour in.
Sanchez herself took to the streets of San Bernardino to hunt for Thomas, even getting herself slapped with a parking ticket for her trouble.
Finally Eyewitness News tracked him down and the pair were put in touch.
"God bless you darling", an emotional Thomas told Sanchez via telephone, before the pair met again at the shelter.
Scroll down for video of Thomas and Buzz being reunited. And have a tissue ready.
ANIMALS IN THE NEWS: