David Gill has announced he is to stand down as Manchester United's chief executive on 30 June.
In a statement released on the club's official website, the 55-year-old said his summer departure would allow United to "refresh themselves with new management and ideas".
It was also confirmed that executive vice chairman Ed Woodward would replace Gill as chief executive.
Gill joined United as their finance director in February 1997 and assumed the role of chief executive in September 2003. He is to remain as a club director.
"It has been the greatest privilege to serve Manchester United for 16 wonderful years - the last 10 of which as its chief executive," Gill said.
"I have worked alongside the finest manager in the history of the game and been part of what I consider to be the best club in the best sport in the world.
"It has been a very hard decision because I love this club and, as the fans' banner says, it is, 'more than a religion'.
"I've experienced some incredible highs, such as the Treble in 1999 and the League and Champions League double in 2008, and lows, like losing the title with the last kick of the season last year. But that is what makes this club and this sport so compelling.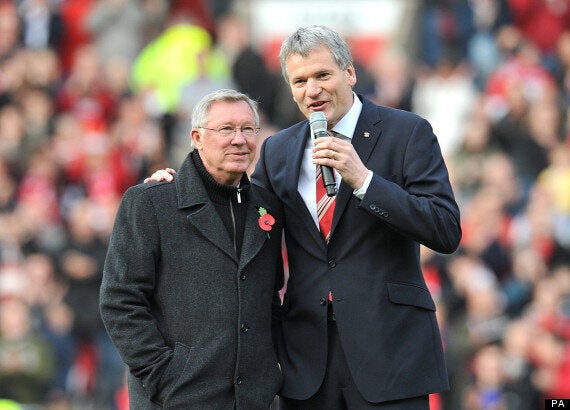 Gill's legacy is an infamous one in the eyes of many United fans
"However, I have always been conscious of the fact that, as a member of staff, I was always just a temporary custodian of this marvellous institution. I am also of the view that all businesses need to refresh themselves with new management and ideas and after 10 years in charge I believe it is appropriate for someone new to pick up the baton."
Gill has enjoyed a fruitful working relationship with manager Sir Alex Ferguson and last year sanctioned the naming of a stand after him.
The Scot this morning paid tribute to the outgoing Gill, who remains as the vice chairman of the Football Association and a nominee for the UEFA Executive Committee.
He admitted he had tried to persuade Gill to change his mind, saying: "I have been at United for over 26 years and for 23 of those years my boss has been one of only two men: Martin Edwards, who brought me to the club, and David Gill. I have enjoyed working with both," he said.
"David has been a magnificent chief executive. Of course, we have had a million arguments, but I have always enjoyed them because I know that David has two great qualities: he is straight and he always puts Manchester United first.
"No disagreement is ever personal with him. He always wants the best for United, whether it's the players, the training ground or the staff.
"Him stepping down is a big loss to me but the fact that he is staying on the board encourages me that the reason for his departure is heartfelt, that he believes it is time for the club to move on. If I could have found a way of persuading him to stay I would love to have done that. But he has made his decision and I respect him for it."
Gill was also commended by the club`s vice chairman, Joel Glazer.
"David has played a significant role in the success of Manchester United in his 10 years as chief executive and he can take great satisfaction in all that has been achieved on his watch, both on and off the field," he said.
Popular in the Community