Having heard about the 'wonders' of high intensity interval training via a short item on BBC news, I decided it could be my kind of exercise.
As a school child I always chose the 100 metres sprint over cross-country running in PE, and I figured HIIT training must be the grown-up equivalent.
As I walked into the wellbeing Mecca that is the Virgin Active Kensington Health Club for my first GRAVITY HIIT class, I was met by a smiley trainer who told me she'd tried it last week and couldn't walk for a week. It was only then that I stopped to think: "Am I really strong enough for this?"
I was then introduced to my 'master trainer' Greg who was to lead the half-hour class.
He ran through the Total Gym equipment and explained that this one piece of kit could deliver 120 different exercises, using the resistance of my bodyweight alone.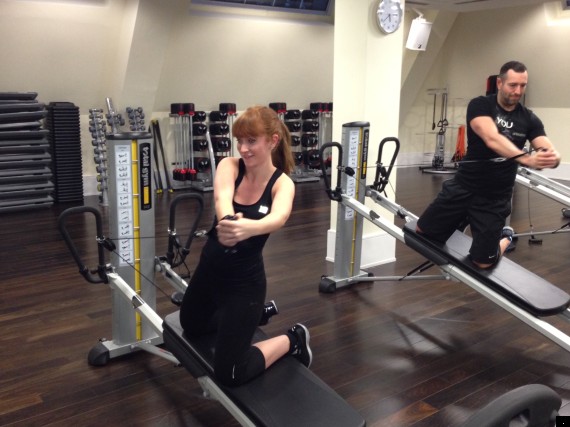 Greg shows me how it's done
Greg promises that the exercises can be adjusted to suit suit all abilities, as by varying the angle of the 'glideboard', you can change the percentage of bodyweight you're lifting for each move.
Essentially, GRAVITY HIIT is made up of 30-second intervals (20 seconds of hard exercise and 10 seconds of rest) repeated eight times per round, with each round using four different exercises to target a single muscle group.
There are rounds to target legs, arms, chest and core, and each round has the equipment set at one resistance level.
WATCH: How the experts do it...
We started with jumping squats, where we pushed off the foot boards, sliding backwards in a jump and landing again in a deep squat. At least that's how you were meant to land, apparently I was doing some funny things with my legs and not quite working hard enough.
The next jumping squat included landing on one leg while the other was in the air. You then alternated it. The first round was fine but by the second my legs were failing me.
Then it was on to the arms and chest. The targeted exercises included chest presses and bicep curls (things I usually avoid), but instead of weights I worked with strings that moved my body weight.
Greg promised the more classes you do the less time it takes to get your hands and strings in the right position and the more time you have to rest between each rep. And the promise of rest sounded good.
There's a competitive nature to the GRAVITY HIIT class, and feeble as I felt I was determined not to be put to shame by the tiny elderly lady next to me.
However, halfway though the chest sets Greg obviously felt sorry for me as I grew increasingly red and dropped the angle of my 'glideboard' down lower. For a brief period I felt strong again.
The real killer moment was the 'pulls ups', which I've never been able to do. Having the sliding board for these definitely made them more achievable. That is until Greg got us pulling up, letting our hands go of the bars and then swiftly grabbing on again before we slid too far down.
Of the 120 exercises possible on the machine, Greg said I did 12 but as I walked out of the gym I knew they were still going to hurt the next day.
This is a great class for someone with little time, who prefers a sprint to a marathon. And I could definitely feel the beginnings of toned arms the next day, as they throbbed gently!
Group training starts from £10 per session, while small group sessions are £20-35. The Virgin Active GRAVITY Fast Classes are free for Virgin Active members. Other big gyms that offer GRAVITY Training include selected David Lloyd and Everyone Active centres.
To find your nearest GRAVITY class go to www.gravityuk.net or got to www.virginactive.co.uk for more info on GRAVITY Fast Classes.