Blade Runner Oscar Pistorius will continue his fight for bail in the fourth day of a dramatic court hearing.
The Paralympian's defence team summed up their case on Thursday arguing that the sports star, who said he shot girlfriend Reeva Steenkamp because he thought she was a burglar, is too famous to flee bail.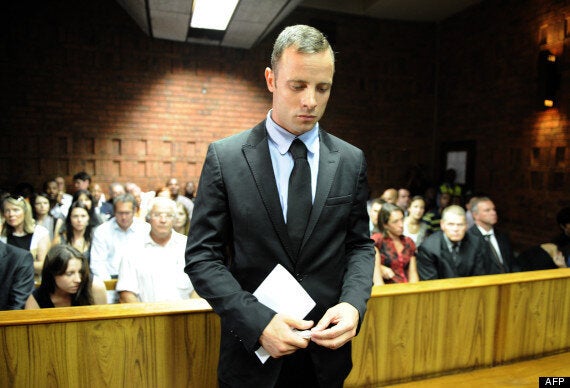 Oscar Pistorius may discover his bail fate on Friday
But the prosecution claim it was premeditated murder and that Pistorius "intended to kill".
In a dramatic twist, the lead investigator in the case against Pistorius was replaced after he was charged with seven counts of attempted murder.
The charges against Hilton Botha relate to an incident in October 2011 and he is due to appear in court himself in May with two other police officers, accused of firing shots at a minibus which had seven people inside.
The case was previously dropped but he was charged ln Thursday, to the surprise of prosecutors in the Pistorius case.
National Police Commissioner Riah Phiyega said Botha had been replaced by senior detective Lieutenant General Vineshkumar Moonoo, Divisional Commissioner of the Detective Service.
It came on the same day as the court was interrupted by a "threat" and sports giant Nike confirmed it has suspended its contract with the runner.
In a statement, Nike said: "Nike has suspended its contract with Oscar Pistorius. We believe Oscar Pistorius should be afforded due process and we will continue to monitor the situation closely."
The company's now infamous ad showed 26-year-old Pistorius powering out of a set of sprinting blocks, wearing his prosthetic blades, alongside the words: "I Am The Bullet In The Chamber."
Pistorius has admitted shooting girlfriend Miss Steenkamp, 29, through the bathroom door, thinking she was a burglar.
Realising his mistake, he broke the door down with a cricket bat and carried her downstairs, he said.
The prosecution claim it was a premeditated murder, but his defence has argued there is no evidence to suggest the athlete's account of events is untrue.
Defence lawyer Barry Roux said poor-quality evidence by Botha had exposed disastrous shortcomings in the state's case.
He said he had been selective with what he said and determined to "bolster the state's case", but could not refute Pistorius' version of what happened.
Mr Roux said Miss Steenkamp staying with the Paralympian was consistent with a loving relationship, and that after she was shot, evidence suggested Pistorius was desperate to save her life.
He said the fact there was no urine in her bladder suggested she had got up to go to the toilet and if Pistorius had shouted about an intruder, it was likely she would have locked the door adding: "The evidence is not that the applicant knew the toilet was locked when he fired the shots."
Asked if there would be shock if Pistorius was released, Mr Roux said there would be shock if he wasn't.
Summing up the prosecution case, Gerrie Nel said the onus was not on the state, but on Pistorius, to prove he should be given bail.
He asked if the Paralympian thought "I'm Oscar Pistorius, I'm a world renowned athlete, that in itself is special", was an argument for exceptional circumstances and said the star wanted to continue with his life "as if this incident never happened".
He said: This total lack of insight and willingness to take responsibility for his deeds increases his flight risk."
And he claimed Pistorius' version of events was improbable and his actions that night were indicative of a man ready and willing to fire to kill.
"He fired four shots, not one shot," he said. "The only reason you fire four shots is to kill. On his own version, he's bound to be convicted."
Popular in the Community