The legend that is Barbra Streisand is not often compared to a bus, I'm sure.
However, bear with me. The enduring screen and stage icon (with Grammys, Oscars, Emmys and Tonys all to her name) doesn't appear on the screen these days with anything like the same frequency she used to.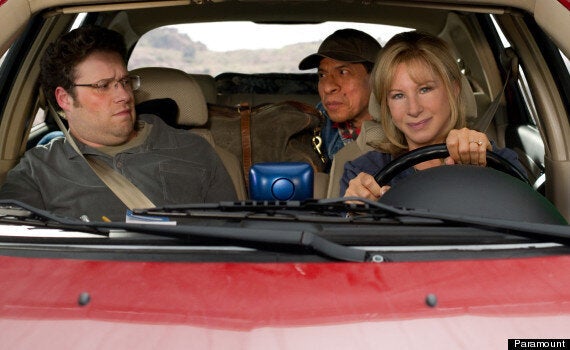 Inventor Andy Brewster (Seth Rogen) is caught in the car with his mother (Barbra Streisand) for 'The Guilt Trip'
But this week, like the proverbial Number 94, after not turning up for ages (this only her third film in a decade), she's making a double offering. Not content with (arguably) stealing the show at the Oscars with her mournful rendition of 'The Way We Were' in tribute to her friend and composer Marvin Hamlisch, she's turning up at the UK box office in a clowny caper that reminds us of her primetime era - What's Up Doc?, The Owl and the Pussycat, etc.
Her partner in crime this time around is Seth Rogen, playing her inventor son who ends up accompanying her on a road trip - the HuffPost UK has an exclusive clip - WATCH ABOVE.
Here's some extra blurb...
As inventor Andy Brewster (Seth Rogen) is about to embark on the road trip of a lifetime, a quick stop at his mother's (Barbra Streisand) house turns into an unexpected cross-country voyage with her along for the ride.
The Guilt Trip is in UK cinemas from Friday 1 March. Watch the trailer below...