A student got more than he bargained for when he bought a Wicked Variety Meal from fast food chain KFC and found a wrinkled kidney and "almost a complete spine".
James Lally, a student at Sussex University, bought a meal for himself and his girlfriend at the London Road restaurant in Brighton on Sunday. The 22-year-old's girlfriend made the gruesome discovery after having already eaten most of the chicken.
"I tend to stay away from their original recipe chicken for these kinda reasons," Lally told The Huffington Post UK. "Ironically, we got the 10 piece wicked variety bucket to share."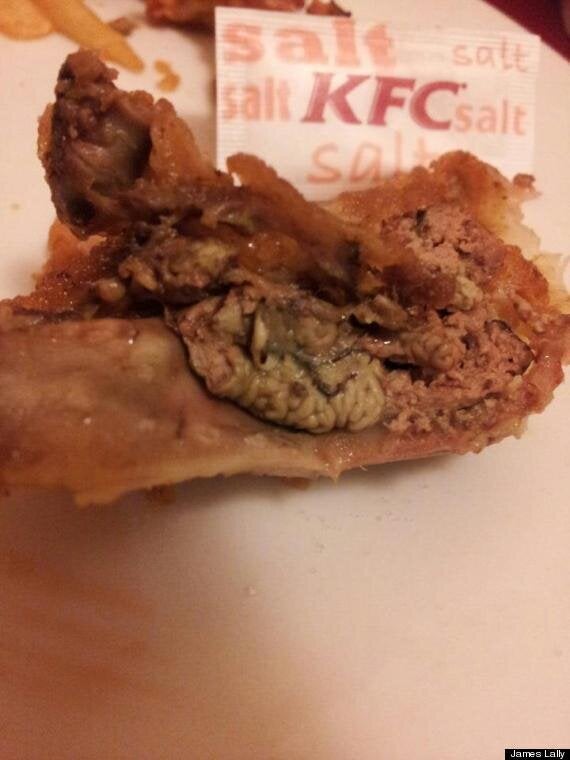 A picture of the wrinkled kidney, which resembled a brain, Lally found
"We'd eaten most of the chicken when we found a pretty intact spine complete with their secret blend of herbs and spices," Lally continued. "We joked about finding more, and then [my girlfriend] came across the kidney."
"I think she was just pretty relieved to have seen it before she ate it," the neuroscience student adds. "I hadn't eaten KFC in a year and definitely won't be eating it again."
Lally didn't complain to KFC staff immediately as "they would just come out with the same corporate crap they came out with last time", but he has since lodged a complaint.
"To be honest, vouchers for free KFC doesn't really appeal to me right now," Lally added.
HuffPost UK contacted the KFC press office who asked for Lally to send over a sample, but stomach-churning chicken has been thrown away. "Surprisingly enough it wasn't something we wanted reminding of," Lally says. "So it all got binned pretty sharpish."
A spokesperson for KFC said: "We're really sorry for Mr Lally's experience. We sell 200 million pieces of chicken every year and always try to ensure the highest standards in every restaurant. However because all our chicken on the bone is freshly prepared by hand, unfortunately on extremely rare occasions, human error can mean that a kidney, and not a brain as claimed, is not removed in the preparation process.
"Although Mr Lally did not contact us and we have had no opportunity to investigate, it appears from a photograph that this was the case, and while there was no health risk, we agree it was unsightly. We have reminded staff to pay extra attention when preparing our chicken to ensure this doesn't happen again."
Related