The failure rate of start ups acts as a filtering process, ensuring only those with the right experience, skills and passion survive.
That's according to David Gold, serial entrepreneur and current owner of West Ham Utd. In a wide-ranging interview with the Huffington Post UK, Gold also discussed why his lingerie brands Ann Summers and Knickerbox hadn't followed La Senza into administration, his plans for encouraging lower ticket prices in the premier league and why he believes entrepreneurs are made, not born.
"A lot of being an entrepreneur is down to luck and circumstance, you don't sit down and think 'I want to go and be one', or at least, I didn't," he told HuffPost UK.
"I was a bricklayer's apprentice and hating every minute of my life, but I'd touched on entrepreneurship before when I was working down on the market at a stall, so I'd already become interested in buying cheap and selling dear."
The opportunity that eventually came his way was from his brother, and the chance to help run his kiosk.
"What I didn't know was it had already failed fives times in the past six years – if I had I probably wouldn't have taken the risk," Gold joked.
On the perennial question of what characteristics make a businessman succeed, Gold believes it's a combination of drive and desires.
"I think there's got to be a desire to give your time and energy to succeed at something. I remember having such a passion to succeed for myself, not for others. I didn't want to work for anyone else. If I'd made £20 working for someone and only made £10 working for myself I'd be happier doing (the latter)," he explained.
"The other driving force for me was the poverty – it pushed me all the time and then of course when you begin to achieve that driving force changes, it becomes that you don't want to go back to where you were, you don't want to slide back into poverty." West Ham football club owners David Gold (left) and David Sullivan (right) with vice-chairman Karren Brady
The most controversial point of the interview arises when HuffPost discusses the issue of funding of start ups and new businesses; Gold admits it's a question he is asked about every time he speaks at entrepreneur events, but while he feels sorry for those businesses who are struggling, the lack of available funding might be a sign that the business isn't quite ready yet.
"To my mind, it's a filtering process, where only those businesses which have the right skills, drive, experience and qualifications get through, because they're ready. The ideas that are better will fly," he told HuffPost UK.
"There's some great ideas out there but finding funding is difficult. My own story was I just kept persevering – I had to give the banks six goes before I got a loan for my business, but each time I went and got rejected I learned something, so I was better equipped for the next time. You just have to keep going."
What about the businesses who'd been rejected by several high street lenders, leaving marks on their credit profile and putting off other lenders, HuffPost asked.
Gold didn't accept that as a reason for not succeeding.
"People forget, it was never meant to be easy, otherwise there'd be millions of entrepreneurs and nobody working for them. If you made the process easier for good people with good ideas… I don't know. I think when I see these people who are struggling, I feel sorry for them, but in two or three years time they'll tell you a story about their journey.
"Having said that, I would like to see more opportunities for businesses – there's thousands of young people wanting to set their own business up – but what I'd like to see is more training for them to help them know where to go to start up their businesses."
Basic introductions to business at school level would be "a great start", Gold added, saying he regularly spoke at universities and was always bowled over by the enthusiasm of the students he spoke to.
"The question to ask is, are they prepared to work for 12 hours a day? The truth is being an entrepreneur is not for everyone. Being an entrepreneur is only for those who are hell-bent on pursuing success." Gold moved into lingerie in 1972 by buying Ann Summers
One of Gold's better known brands is Ann Summers, the lingerie and sex shop brand, currently run by his daughters Jacqueline and Vanessa. He also runs Knickerbox, a straight underwear chain distributed through Ann Summers.
Fellow entrepreneur Theo Paphitis also runs a lingerie boutique, Boux Avenue, so what is it about knickers that keeps shoppers spending in a recession?
"The key is women need to feel good – wearing nice underwear makes them feel good, it's not just about feeling sexy," Gold begins, before bashfully admitting that as a man, he may not be best placed to explain why women continue to spend on nice knickers.
But he gamely tries: "It's not hugely expensive either – it's not like spending £200 on a dress, you can spend around £10 on something nice.
"I don't think lingerie's recession proof, but we're not one of the industries that has suffered as badly. You need to look at you costs, as we have, and look to grow your business."
Another lingerie brand, La Senza, famously fell into administration in 2012 after failing to sell enough to keep its private equity owners safe. Before it moved into PE hands, the chain was run by Paphitis.
"La Senza lacked Theo's entrepreneurial skills after he left… had Theo still been their chairman I don't think it would've gone bust," Gold offered.
"You could argue La Senza was doomed from the start, - it was over priced when the new company took it over, the debts crippled them and they made basic mistakes. But Theo would never have let it go under.
"Nobody likes to see what's happening to the high street, but it is happening for a number of reasons including the recession and the internet. You need to adapt to survive." Gold celebrating with the League Cup in 2012, the season West Ham were promoted to the Premiership
David's other great love is football. Now chairman of West Ham Utd, where he trialled and was offered an apprenticeship as a boy, he was previously the chairman of Birmingham City, where he met and hired his right-hand woman, Karen Brady.
Since joining the Premiership club, West Ham's chairman has been making waves by trying to bring equality to the football leagues, and encouraging football's elite to help clubs lower down the foodchain.
Among these campaigns has been his fight for financial fair play. Introduced amid growing concern at the heavy spending of a number of professional clubs across Europe, it was hoped new regulations would eventually prevent clubs with very wealthy owners from gaining an unfair advantage over other clubs who are run on a more sustainable business model, and in so doing encourage lower levels of spending.
It was also hoped the move would prevent clubs falling into administration the minute the high spending backers pulled out.
This February, Premier League clubs finally agreed to introduce cost-controlling measures for the 2013-2014 season ahead of the Uefa Financial Fair Play Regulations (FFPR). Under the rules, European clubs will not be allowed to spend more than they earn or face sanctions.
The push was championed by Gold, but it wasn't his first battle with fellow Premiership heads; he spent 13 years trying to get a vote for increased 'parachute payments' for clubs who were relegated from the Premier League to be passed.
"In Premiership meetings where you need 14 votes to pass a change it's like herding cats," he sighed.
"Years ago I went to the first vote for increasing the parachute payments and I was obviously going to be in favour as it was my team that was most likely to need them.
"So I sat at this table and they asked for a show of hands for who agreed that the parachute payments should increase, paid for by clubs in the league, and I raised my hand. I was the only one, it was embarrassing. I'd been in the Premier League for all of 27 minutes."
Thirteen years later, the vote eventually got 13 votes plus one abstention which was enough to get it through, but that took 13 years of argument and compromise- all to get a slight improvement on parachute payments.
"More money is going down into the lower leagues now because we're finally realising that we're all in it together. We know we've all got to take care of the health of all of the football leagues."
Gold is still critical of the top flight's leaders however, who he accuses of deliberately standing in the way of change.
"The big six clubs don't want any controls put on them and want things to stay as they are. They don't want fair play, they want to keep the system as it stands.
"We want to avoid clubs from falling into administration – half of the Championship has been in administration before, but those top six, maybe eight clubs, are against any sort of change."
Gold's next campaign is to try and bring the cost of tickets down - having successfully got the clubs to agree to controlling costs in the best interests of fans and football as a whole, he hopes ticket prices will be next.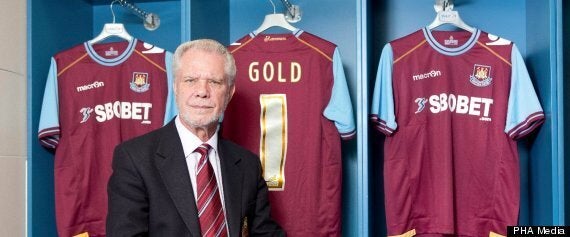 Gold in the West Ham dressing room
"Some of that money raised should go back towards the fans," he said. "When I was 10, maybe 12 years old, my mum could afford to give me a few coins to go to the football..." At this point he audibly sighs, clearly taking in the enormity of the current price of an Arsenal, Chelsea, Tottenham, Manchester City or Manchester United ticket.
"If tomorrow you got all of the clubs to freeze their ticket prices, it wouldn't affect any of them - the top priced clubs would still be the top priced clubs. The danger is, and fans ask this all the time, if you go it alone and drop your prices… Well we'd either go bust or get relegated as we wouldn't be competitive anymore. The whole league needs to collectively cut their prices and then cut their cloth accordingly together."
In the Bundesliga in Germany, you can buy a Bayern Munich season ticket for little more than £100. That wouldn't pay for two games in the UK's top flight, HuffPost UK reminds Gold.
"Yes, in Germany they're already doing this and it's working – the only problem is around the world people aren't watching the Bundesliga because it's not as exciting," Gold says, referencing the lucrative television deals which provide huge payments for the Premier League clubs,
"And that's because of the lower ticket prices – it means their clubs can't afford a Messi, unlike Chelsea or Man Utd, or Man City. The Bundesliga is a model we, the fans, all think we should pursue but we don't actually want. Fans should be careful what they wish for."