A royal tribute from Kate Moss and a politically-minded Dalek will fight it out for the title of the greatest magazine cover of the last 100 years.
The first ever UK edition of Cosmopolitan from 1972 and Dennis the Menace on the front of The Beano are also among the contenders that will be put to a public vote.
Kate Moss's Vogue cover from 2001, complete with a crown and sceptre, was billed as a royal salute ahead of the Queen's Golden Jubilee, while the 2005 Radio Times urged readers to Vote Dalek ahead of the 2005 general election.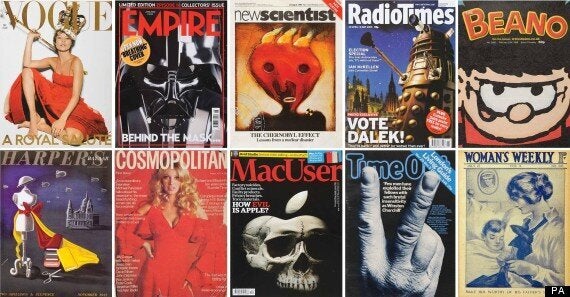 The 10 images were chosen by a panel of industry experts to celebrate this year's centenary of the Professional Publishers Association (PPA).
PPA boss Barry McIlheney said: "Our centenary year provides us with a unique opportunity for the industry to celebrate not only the association but, more importantly, its members and the entire magazine publishing industry.
"The Cover of the Century is just one of the many activities the PPA will be carrying out in 2013 to mark this historic occasion.
"We are looking forward to the next 100 years, and how the unique power of magazine brands will help shape the evolving media landscape at what is the most exciting time in our rich and vibrant history."
The shortlisted covers, to be put to the public vote, are:
Woman's Weekly - July 1916, Wartime Women
Harper's Bazaar - November 1941, Fashion Blitz
Cosmopolitan - March 1972, Launch Issue
Time Out - November 1974, Churchill V-Sign
New Scientist - April 1987, Chernobyl
The Beano - February 1999, Dennis The Menace
Vogue - December 2001, A Royal Salute
Radio Times - April 2005, Vote Dalek!
Empire - June 2005, Breathing Vader
MacUser - February 2012, How Evil Is Apple?