As if going through a break-up isn't complicated and upsetting enough, there's now an app that will pimp out recently single individuals to their friends.
Yes, a Facebook app called On The Rebound has gone one step further than Bang With Friends, encouraging users not just to hook up with their mates, but to take advantage of new (and possibly heartbroken) singletons.
Developed by Anthony Coombs and Jon Tran, the app scours users' single Facebook friends looking at how long they have been single and how long since their last relationship.
These numbers are then crunched -- using the age-old 'on the rebound' logic that following a break-up an individual is more likely to get involved with someone new -- to work out which friends are most willing to hook up.
"On The Rebound is for entertainment purposes only. It will not help you get laid, but if it does, please let us know," reads the site.
"We built a program that goes through ALL of your single friends' entire Facebook history and finds every time they enter into a relationship.

"From there we plot how many relationships they've had, how long they last, and how long they've been single.

"From there we use the info we gathered from the experts to give a pretty good explanation on their availability depending on their gender, age, and some other factors as well."
On behalf of HuffPost UK Lifestyle, I decided to give it a whirl. And, let's just say, I was pretty disappointed.
Of the 31 men suggested through the On The Rebound app, four were gay, three lived outside the UK, one was an ex and as for the remaining 24...well, I wouldn't touch them with a barge pole.
Back to the drawing board, perhaps.
See how it works in the gallery below...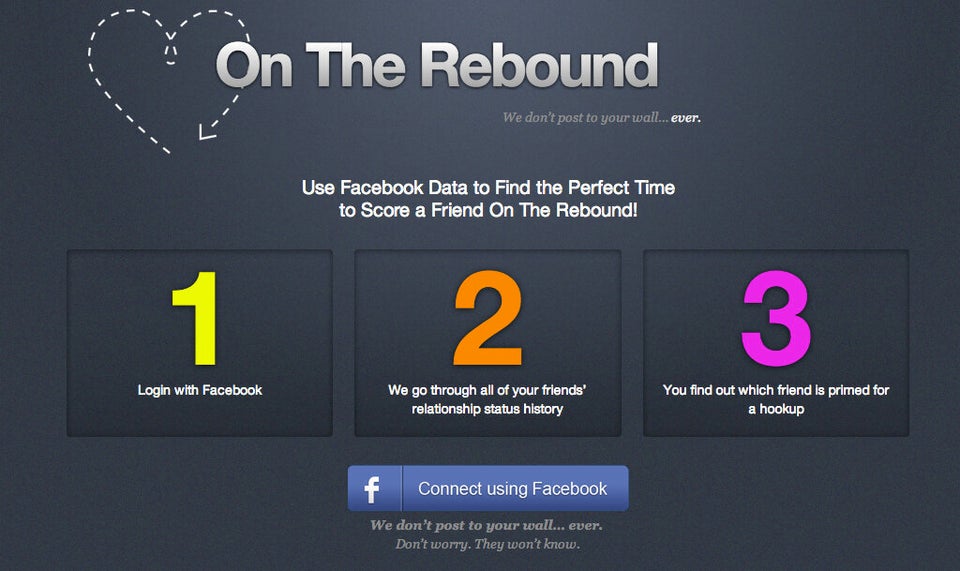 On The Rebound App