Just in case you were going hungry for TV cookery fare, Simon Cowell has stepped into the breach with his new show 'Food Glorious Food'.
Tipped as the 'X Factor' of cookery programmes, this one promises to be "warm, funny, and irresistibly entertaining, this will be the biggest and most inclusive food show on British TV" (this from the production company's own website).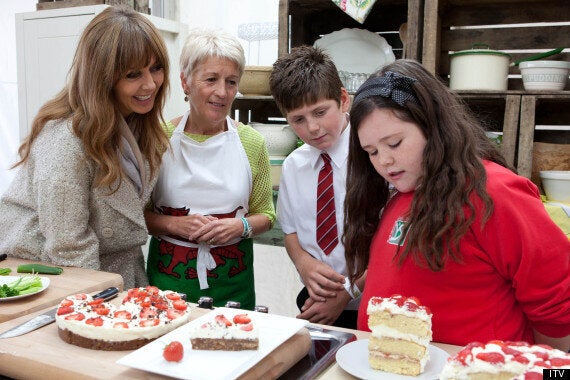 Carol Vorderman hosts 'Food Glorious Food'
With 'Masterchef', 'Bake Off', 'Discovering Sicily' as well as the delectable Nigella in various guises, the nation seemingly can't get enough of watching people staring at ovens - something Cowell and Co are banking on. So how is this one any different?
It promises to scour the country, looking for people with special family favourites because, apparently, "every recipe tells a story". Really?! Can't buns just be buns? Anyway, everyone is eligible to enter just one dish in this nationwide search, and the winner gets, not just a cash prize, but the chance to see their dish on the shelves of Marks and Spencer food halls, with all the profits... going to charity. Everyone's a winner. Mr Cowell's heart must have cracked open since he encountered that dancing dog.
The thing is... and this will either be the programme's saviour or its downfall... Mr Nasty Judge isn't actually in it, he's just the backroom Mr Money for this one. Carol Vorderman is up front and central, with the help of judges including Tom Parker-Bowles, Loyd Groooosman and two others Stacie Stewart and Anne Harrison (baker and WI chief respectively).
Cowell's absence is something Vorders is keen to point out, it seems. "Less 'X Factor', more 'Antiques Roadshow'," she told Digital Spy. "This is not X Factor. It's not like that at all. It's got a very British feel and it's very eccentric." Read more here...
So, what are your thoughts? Is this a perky meringue, or a sunken souffle in the making? It starts tonight on ITV at 8pm. Some pictures below...
Related