For A-Ha fans, it's all over. The Norwegian trio have packed away their instruments, softened their cheekbones and gone back to so-called normal life - nine albums recorded, 60 million sold, global pop history made.
But all is not lost. Because the band - Morten Harket on vocals, Magne "Mags" Furuholmen on keyboard and Pal Waaktaar on guitar - have released a photo book, limited in their native Norway, but with a studio exhibition in London revealing many of the best shots, all by photographer Stian Andersen.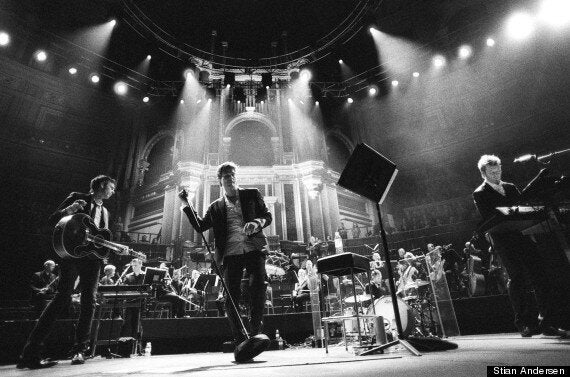 A-ha on stage, as caught on camera by Stian Andersen
"Stian is one of the go-to guys in Norway when you want good rock photography," Mags explains, in attendance at the Strand Gallery's first showing.
"Cool, grainy, black and white shots that make you look cooler than you are, that was the aim," adds Mags, an artist himself. "Something that makes a pop band look like a serious rock band from the seventies."
SEE SOME EXCLUSIVE PREVIEW IMAGES BELOW...
"When we started on the last tour, we didn't know it was going to be the farewell. It was just us bringing some idiot on the road with us," he adds, making sure Andersen, sitting nearby, can hear every word.
"We hadn't been very good in documenting everything we did, and missed a lot of opportunities along the way. We had used an American photographer for some tours, but that was a long way from Norway.
"And it was easy to have him around, it wasn't a chore... in fact he bugged us so little that I used to worry he didn't have any shots."
You'd think the three musicians, who first became a band in 1982, would have nothing to learn about each other after so many years of touring, but Andersen's photographs of their lives on the road, have brought out something that even surprised its subjects...
"They've revealed a feeling of unity that you don't really think about in terms of the band, and that was a positive feeling that came out of it... I wrote in the preface to the book that I think it's captured something we all felt was like being there, it had that authenticity, feeling of recognition. It takes a lot for us to agree on anything, and we all really liked the outcome of his work."
If looking at these beautiful photographs can make any fan of Norway's favourite sons feel nostalgic for the time of 'Take On Me', 'The Sun Always Shines' etc etc. I wonder if it reignites the spark for another turn around the block for the chaps themselves...
"I think we did have something very special," reflects Mags.
"I think we may have been very careless about looking after it, but I certainly think we had something really special, and I would have loved for that to be an ongoing thing, but that was not to be.
"Not that I resisted the halt, but... it's like smoking. When do you have the best cigarette? What's the one after that that's going to give you cancer?"
I'm hoping that's a Norwegian metaphor because, in English, it sounds a little dramatic. But it's fair enough. 30 years seems a long time to be doing any one thing, and all three of A-ha have continued to be creative in their own spheres. And there'll always be these photographs now as a marker, for them as much as for us...
"It's a highly charged atmosphere on tour, it's all about the moments on stage, but so much stuff goes on around it," Mags adds.
"You remember all the big champagne moments, but you forget the little things, and from that vantage point, it's been a real treat for us to have photographs of this quality, it's like a book of memories."
Related