A taxi driver was tied to the back of a police van and dragged 400m in front of a crowd before being beaten to death in cells, simply because he parked on the wrong side of the street.
The shocking footage, obtained by the South African Daily Sun, show five police officers aggressively manhandling taxi driver Mido Macia, whose only crime seems to be parking in the wrong place.
The 27-year-old driver attempts to resist, but is overpowered. He is then roped to the back of the police van, blood running down his face the doors are slammed.
The crowd become inflamed and try to intervene on his behalf, but the 27-year-old is carted off, his helpless body dragged along the road.
He later died in the cells after being beaten to death by officials, reported the South African newspaper.
A man, who wanted to remain anonymous, told the South African Daily Sun: "If he was parked on the wrong side of the road, they were supposed to give him a ticket, not kill him."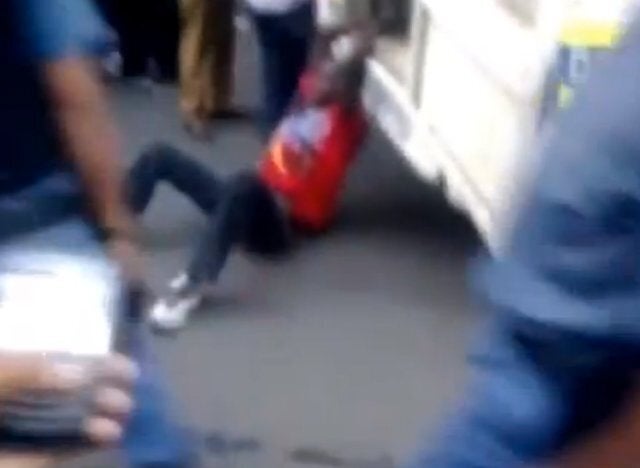 Macia was dragged along the street
The incident happened in a township near Benoni, approximately 45 minutes from Johannesburg, where Prince Harry was last night attending fundraising dinner in aid of a major new project for his charity Sentebale.
"The man died in custody and an inquest has been opened," the newspaper said.
Reggy Moalusi, the editor of the Daily Sun, said the police had requested a copy of the video, telling Sky News: " we can only hope that after they have seen it, action will be taken and the culprit will be dealt with."
The South African police force (SAPS) has been blighted by reports of corruption, political cover-ups, assault and even attempted murder.
Last May, 600 police officers in Gauteng, where Macia was killed, were arrested for corruption.
In August, the police were accused of being involved some of the worst violence since the apartheid after opening fire on 3,000 strikers armed with machetes and sticks outside British-owned mine Lonmin. 30 miners were killed.
The Oscar Pistorius case has also thrown police corruption into the spotlight, with Hilton Botha, the investigating officer having to resign to face seven charges of murder.
Jackie Selebi, formerly South Africa's head of the force for a decade, was convicted of corruption and was linked to organised crime in 2010.
Popular in the Community