London Underground and its contractors have been fined a total of £300,000 after an engineering train ran out of control for over four miles on the Northern Line.
The 39 tonne runaway train reached speeds of up to 30mph as it hurtled southbound on the line for 16 minutes, creating the potential for a "terrible tragedy."
Tube Lines Limited and Schweerbau GMBH were also fined and the trio were ordered to pay costs of £44,074 following the prosecution brought by the Office of Rail Regulation (ORR) for breaches of health and safety law.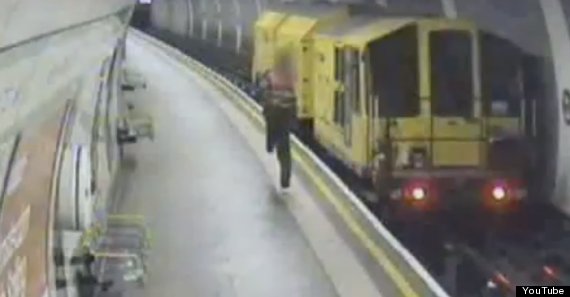 A worker runs alongside the runaway engineering train after it broke free at Highgate Tube station
All three companies pleaded guilty to charges, with Schweerbau GMBH also pleading guilty to an additional charge under Section 2 of the Health and Safety at Work Act.
The incident unfolded in August 2010 when a broken down engineering train being towed uphill towards Highgate tube station broke free after a connection failed.
Footage of the incident shows a panicked Tube worker jumping off the maintenance unit and running alongside the train as it sped out of the platform.
The man throws his hands in the air when he realises what has happened – as the train continues down the line and flies through a busy platform at Archway station.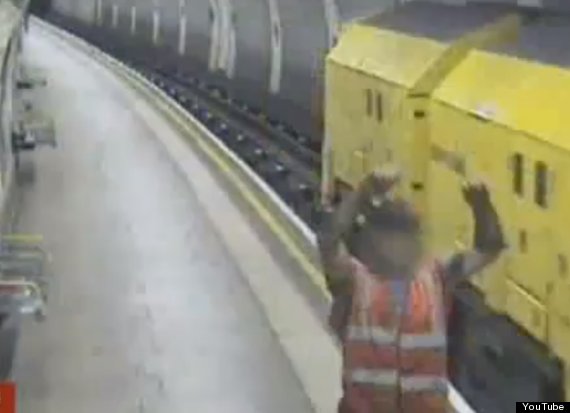 The worker throws his hands in the air as the train flies out of the station
Judge Richard Hone at the Old Bailey said: "There was the potential of terrible tragedy.
"To those involved it must have seemed an extremely frightening eternity."
The charges result from the companies' failure to effectively co-ordinate, plan and work together in transporting the damaged train, as procedures were not followed, a press release from the ORR stated.
It also emerged previous failings made during a rescue of the same train had occurred less than one month earlier on 17 July 2010.
The train eventually came to an unaided stop caused by an uphill incline on the approach to Warren Street station, by which time it had covered over four miles, passed through seven populated stations and reached speeds of up to 30mph.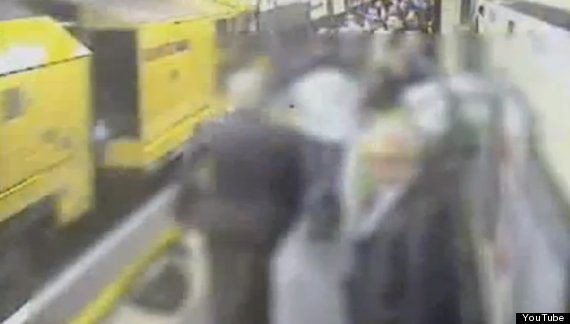 The 39-tonne train careens through a busy platform at Archway station
Following sentencing, Ian Prosser, ORR's Director of Safety, said: "This is clearly unacceptable, and led to a potentially catastrophic incident on the Northern Line where the train careered out of control for over four miles.
"It was only the professionalism of control room staff taking decisive action which prevented a collision between trains, and averted a much more serious outcome.
"We welcome the steps taken by the companies to improve safety management on London Underground since this incident.
"The regulator will continue to closely monitor the actions of all parties involved, and will not hesitate to step in should further safety failings be found."