Rafael Benítez is braced for his worst reception yet from Chelsea fans when the club hosts West Brom in the Premier League on Saturday, three days after he lambasted the club's supporters and board.
Benítez, whose appointment as interim coach has created a toxic atmosphere at Stamford Bridge, said fans protesting against his presence at the club were "wasting their time" and "are not doing any favours" as the club bid to salvage their season.
Only last week Benítez was told to "f**k off" and informed he is "not welcome" by a section of supporters during the Europa League draw with Sparta Prague, as the bitterness at him replacing club favourite Roberto di Matteo worsens.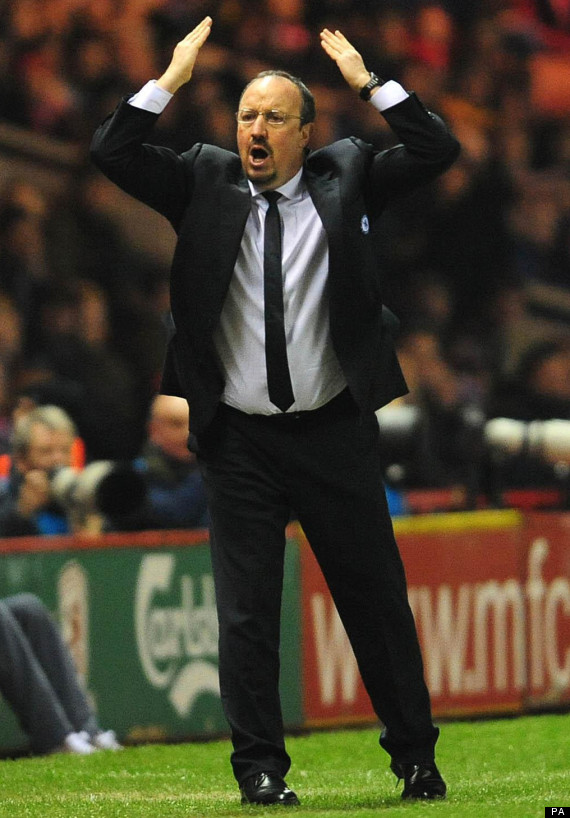 Chelsea manager Rafael Benitez on the touchline, is despised at Stamford Bridge
Benítez yesterday sat down with the BBC's Football Focus show in a pre-arranged interview, where he described his relationship with owner Roman Abramovich as "excellent".
"My relationship with Roman is very good," he said.
When asked if he would be sacked following his rant after the midweek win at Middlesbrough, he replied: "No. They know how we work and what we are trying to do."
Certain reports claim Abramovich will gauge the attendants' reaction before making a decision whether to sack the seventh Blues manager in under 10 years. However it is inevitable Benítez will be treated to a torrent of abuse which could surpass the animosity which festered during his first game as coach against Manchester City.
Benítez confirmed, as if it was required, he would be leaving Chelsea at the end of the season, but the timing of his diatribe will intensify Chelsea' fans' antipathy with the Spaniard.
His Liverpool past and the Reds' mini-rivalry with Chelsea between 2004-09 ensured Benítez was despised amongst Blues, making his November appointment all the more bizarre.
Saturday's opponents West Brom are also managed by Chelsea club legend Steve Clarke, who played for the west London side for 11 years and was assistant manager to the beloved José Mourinho. Clarke's return to the Bridge as a manager for the first time in his career will place Benítez in a surreal scenario, whereby the man in the away dugout will be supported more by the home fans.