You'd be plane stupid to shell out for an original Spitfire when you could just poach a few boxes, lay them down and have a crack at building this egg-septional replica.
This life-size WWII icon, called "Operation egg box – highly classified", was unveiled to the public on Sunday at the Imperial War Museum at Duxford as part of a fundraising effort for Help for Heroes.
The impressive craft is made from Eggs for Soldiers egg boxes, a company specifically set up in 2011 to raise money for the wounded serviceperson's charity.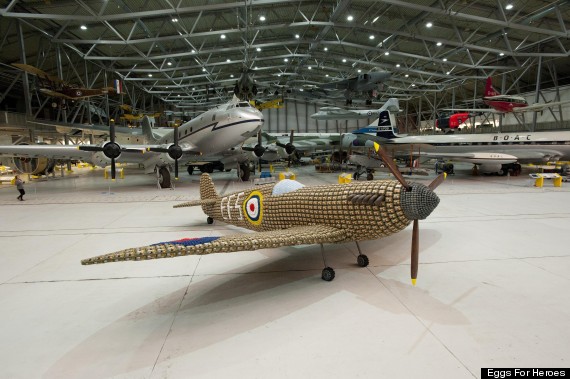 The intricate work also required a bottle of brandy (it's cold in a hangar) and...
The Spitfire took six weeks to make using 6,500 egg boxes, 5 litres of glue, 5,000 nails, 10 litres of paint and 10,000 staples.
Model makers extraordinaire Charlotte Austen and Jack Munro were joined by members of the public who helped put the final egg boxes into position.
Austen, said: "Working on the spitfire has been quite a journey. I've enjoyed the challenge of it immensely.
"I hope everyone enjoys seeing it as much as we did making it."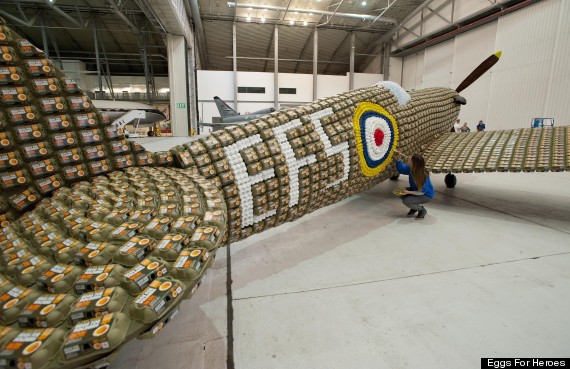 ...one trip to A&E (two stitches)
Munro added: "It has been hugely enjoyable to work on such a unique project for a fantastic charity.
"The biggest challenge in building the structure of the Eggs for Soldiers Spitfire was to recreate the plane's iconic but complex geometry as accurately as possible."
If you want to see it up-close the egg-box spitfire is on display to the general public at IWM Duxford, Cambridgeshire or for more info contact Laura.