Robert Mugabe feasted on ice cream at his extravagant £400,000 birthday party on Sunday in a lavish display of wealth and power that showed his detractors he was still fit to run for election despite turning 89.
As more than a million people in his country survived on famine relief, Mugabe and his supporters tucked into an 89kg cake and 89 cattle were presented to him from the country's central bank. Gold coins bearing Mugabe's face were also minted for the belated celebrations.
Wearing a red cap with 1924, the year of his birth, stitched onto it, he watched as 89 balloons were released into the sky.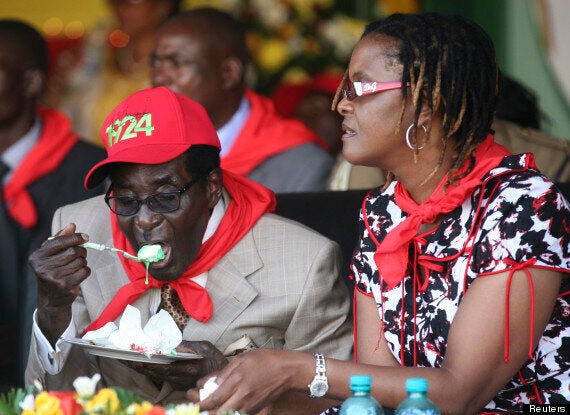 Mugabe tucked into ice cream at his 89th birthday party
After cutting the birthday cake, baked in the shape of his party building, Mugabe told his supporters to go "forward with winning elections, down with imperialism." Mugabe has ruled the country under the Zimbabwe African National Union (Zanu) PF since 1980.
However speculation over the Zimbabwean president's ailing health have been gathering pace after sources close to the party told the Zimbabwe Mail that Mugabe was undergoing intensive treatment surrounded by his family last year.
A WikiLeaks cable from 2008, released in 2011, that claimed that the Zimbabwean leader was suffering from prostate cancer and had less than five years to live.
However on his 88th birthday Mugabe dismissed persistent rumours that he is dying of cancer by comparing himself to Jesus Christ
"I have died many times - that's where I have beaten Christ. Christ died once and was resurrected once."
Mugabe has been head of the African state for 32 years during which he has been condemned for massive human rights abuses.
Related