'The Paperboy' has already caused ripples ahead of its 15 March UK release date, and HuffPost UK are pleased to be able to give away some free preview screening tickets.
The steamy thriller, set in 1960s Florida, stars Matthew McConaughey, Zac Efron, Nicole Kidman, John Cusack, and is directed by Lee Daniels, who last helmed Oscar-winning 'Precious'.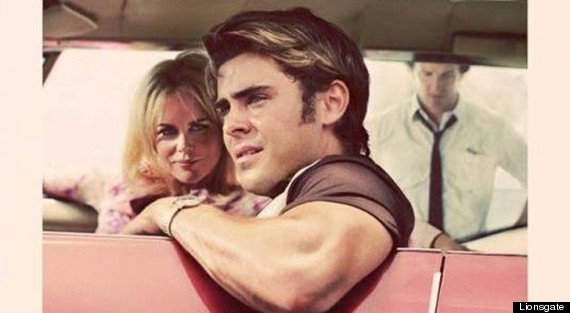 Nicole Kidman and Zac Efron co-star in 'The Paperboy'
The story follows two brothers: Ward Jansen (played by Matthew McConaughey), a reporter for the esteemed daily newspaper, The Miami Times, and Jack Jansen (played by Zac Efron), a recent college dropout who lives in a small town in central Florida with their gutless father, W.W. Jansen (played by Scott Glenn). When Ward shows up with his writing partner, Yardley Acheman (played by David Oyelowo), to investigate a story for their paper, Ward asks Jack to drive them around. The reason Ward is in town is that Charlotte Bless (played by Nicole Kidman), an enigmatic loner who writes to prisoners on death row, has convinced them that Hillary Van Wetter (played by John Cusack), an unsavoury alligator hunter from the backwoods, was wrongly convicted at a trial that took place near their hometown.
As the investigation unravels, it becomes clear that these brothers are on a journey that is filled with betrayal. The only thing that remains constant is that there is this strange, beautiful woman who falls in love with killers and her passion could be everyone's downfall.
Huff Post UK is offering you the chance to check out this new film before its 15 March UK release at FREE nationwide screenings at Picturehouse Cinemas across the UK on Sunday 10 March.
See below to find out which cinema is showing it and then visit http://
www.showfilmfirst.com/pin/837270 to reserve tickets.
Simply follow the online instructions, choosing your preferred Picturehouse Cinema from the list of participating locations, and print out your email confirmation to gain entry to the screening. Hurry though as tickets will be allocated on a first come, first served basis.
Abbeygate, Picturehouse
Aberdeen, Picturehouse
Edinburgh, Picturehouse
Cambridge, Picturehouse
York, Picturehouse
Brighton, Picturehouse
Exeter, Picturehouse
Greenwich, Picturehouse
Hackney, Picturehouse
Southampton, Picturehouse
Liverpool, Picturehouse
Brixton, Picturehouse
Clapham, Picturehouse
Stratford, Picturehouse
Notting Hill, Picturehouse