Justin Bieber's most controversial week ever just got a whole lot worse after he lashed out at a photographer in spectacular style outside his London hotel.
The teen saw red when a snapper tried to take photos of him leaving the Langham Hotel, and launched himself at the pap.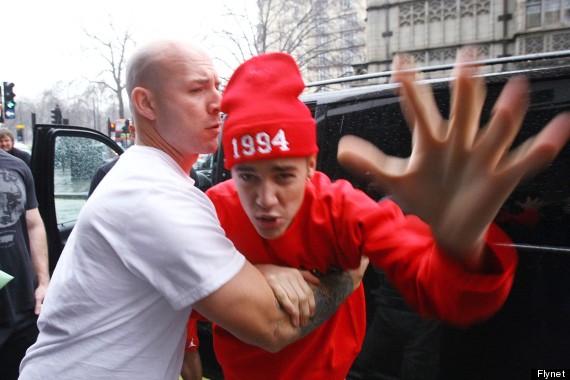 Justin had to be held back by a minder as he tried to grab hold of a camera to stop pictures being taken.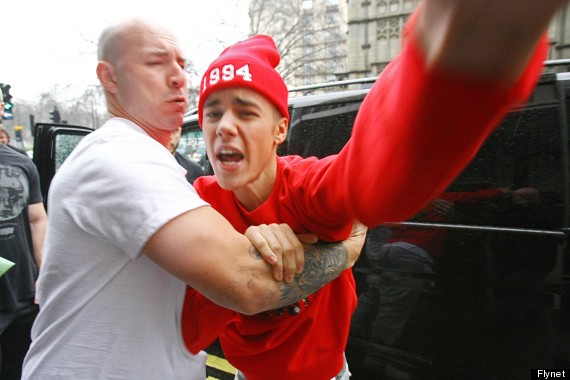 According to Channel 5 News, who obtained footage of the incident, he was allegedly heard shouting: "What the f*** you say? What d'you say? I'll f***ing beat the f*** out of you man!"
He took to Twitter after the incident to explain his actions, saying he left the photographers get the better of him.
He wrote: "Ahhhhh! Rough morning. Trying to feel better for this show tonight but let the paps get the best of me...
"Sometimes when people r shoving cameras in your face all day and yelling the worst thing possible at u...well I'm human. Rough week.
"Not gonna let them get the best of me again. Gonna get focused on this show tonight. Adrenaline is high now. Gonna put it on the stage."
He added: "Only way someone can break u is if u let them."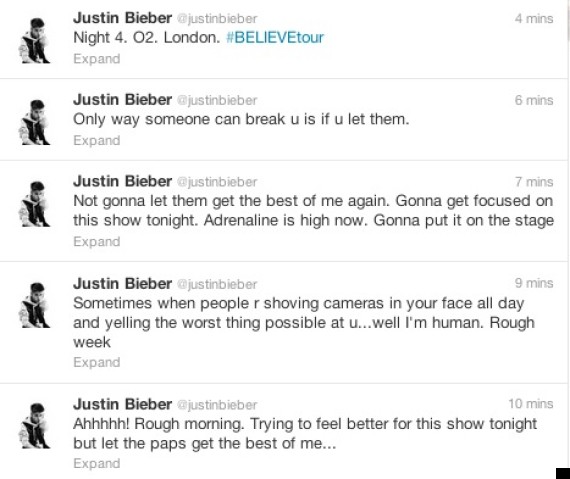 Of course, this isn't the first time that the 'Believe' singer has lashed out at a photographer.
He was accused of assaulting a pap in Calabasas last year when the snapper stood in front of his car as he tried to pull away with then-girlfriend Selena Gomez.
But his fresh attack is the latest in a long line of strange incidents since his arrival in London earlier this week, which suggest the pressure is starting to get to the 19-year-old.
Bieber was forced to apologise after keeping fans waiting for two hours at a gig on Monday, but claimed that technical difficulties had kept him from his young fans.
The teen was then seen walking around London wearing a gas mask, before going on a bizarre Twitter rant, telling fans not to judge him.
He then collapsed during his O2 concert on Thursday night, and was taken to a nearby hospital complaining of breathing difficulties.
LIKE US ON FACEBOOK | FOLLOW US ON TWITTER