Winter has returned to Britain with a vengeance, bringing travel chaos on Monday morning.
Ice, snow and bitterly cold winds greeted commuters, with delays on roads and railways throughout the country.
It included blizzard conditions on the M40 in Warwickshire causing a string of accidents and the closure of Jersey airport due to snow, while falling trees blocked roads in some parts.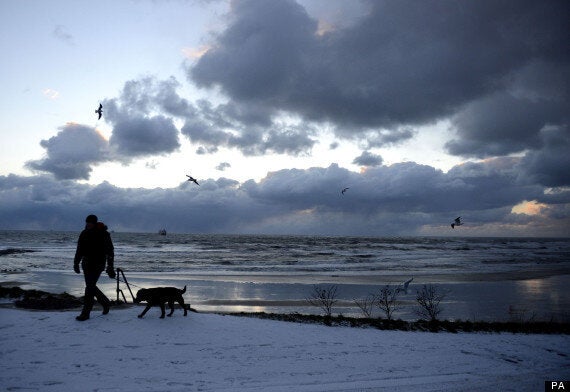 A man walks his dog in Tynemouth after more overnight snow
Poor rail conditions led to delays in Sussex and Hampshire, while there were signalling problems in other parts.
Forecasters warned of snow spreading to nearly every area of Britain, with almost 10cm expected in the worst-hit areas.
With more snow showers expected throughout the week, bookmakers slashed the odds for a white Easter.
On the roads, there were hazardous driving conditions on the A69 and A6 in Cumbria and on the A54 in Cheshire.
In Sussex, police said there had been "a number" of crashes caused by the snowy conditions as they warned motorists to take extra care on the roads.
Julian Mayes, a forecaster with MeteoGroup, the weather division of the Press Association, said temperatures would struggle to reach 0C (32F) anywhere in Britain today.
He went on: "The cold weather is set to continue until Thursday but today will be the coldest day.
"Monday, Tuesday and Wednesday nights are all expected to be very cold and frosty, with overnight temperatures as low as minus 6C (21F) in places.
"By Friday the wind will have eased off and temperatures could reach 7C (45F). That's still below average for the time of year, but will seem much warmer after this cold snap." Snow covered chalk cliffs looking west towards Cuckmere haven from Birling Gap.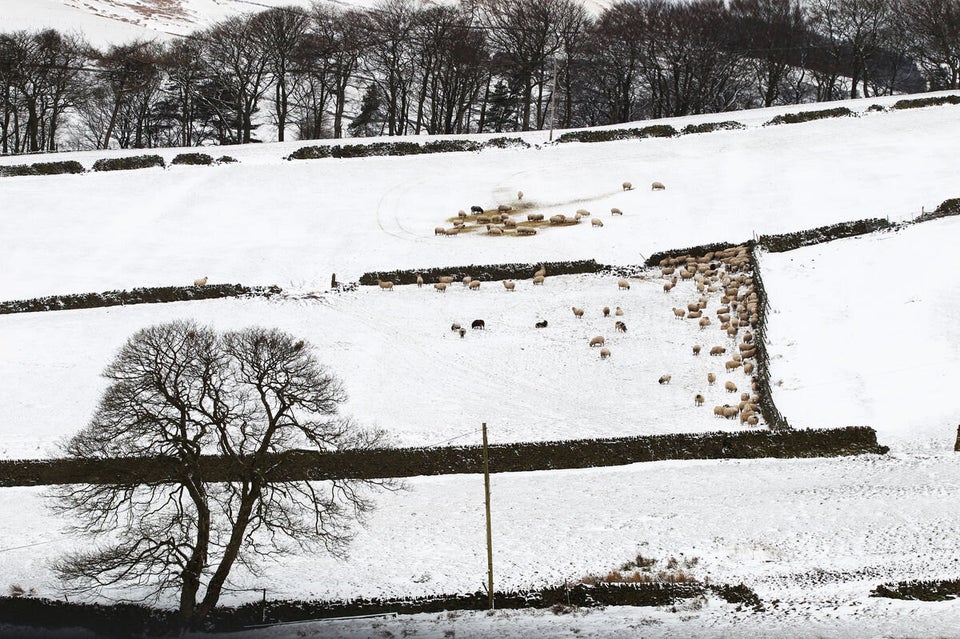 Winter In March A horse grazes in a field as snow falls on the Pennine town of Hebden Bridge
The Met Office has issued an amber warning of snow in the south west and yellow warnings across east Scotland and England and in the southern regions, urging the public to be prepared for disruption.
The cold snap is an unwelcome surprise for birds coming back to the UK expecting mild weather after time spent in the warmth of Africa.
Grahame Madge, a spokesman for the RSPB, said sand martins are already arriving back from hotter climes for the British summertime, and will face "very hard conditions".
"There's a limit to the amount people can do. We would ask people to carry on putting food out. For birds that rely on insects there's really nothing people can do," he said.
Motoring services firm RAC said it expects potential breakdowns to increase by 20% over the next few days and have an increased number of patrols planned.
The firm said motorists should "proceed with caution".
A spokesman for the Highways Agency said: "The Highways Agency, which operates and maintains motorways and strategic roads in England, is well prepared for ice and snow.
"It has over 500 winter vehicles - salt spreaders, ploughs and snow blowers - on standby at over 100 depots to help keep traffic moving.
"Using data from the Met Office, it is able to treat the strategic road network before road temperatures fall below freezing.
"We advise people to check local weather conditions and be prepared to allow more time for their journey."
Popular in the Community