'Broadchurch's investigation into the murder of Danny Latimer continued, with DI Hardy (David Tennant) sifting his way through new bits of evidence, while DS Miller (Olivia Colman) found an uneasy tension between her role of investigating police officer, and sympathetic family friend, especially when some drugs and cash turned up in the home of the victim, and then some prints landed even closer to home.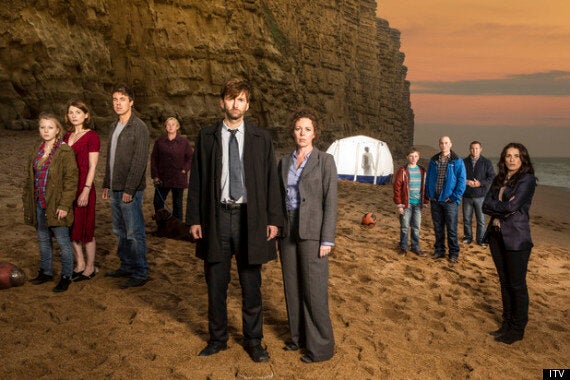 'Broadchurch' is getting into its own stately rhythm
"You have to look at your community from the outside now," Hardy instructed, barely ingratiating himself enough to eat the fish and chips she proffered.
The beauty of the seascape belied the horror of the crime, as the police officers faced down their own internal demons - something particularly moving in the awkward body language of Tennant, and the hints of his past troubles. But the real key scene of this episode was the victim's family's wordless handing over of their list of suspects. "These are all your friends," said Miller. Thereby lies the rub.
This didn't make me feel as awkward, though, as watching the journalist from the big smoke rock up and ingratiate herself into the trust of Danny's sister, by virtue of a shared cigarette light, a stolen teddy bear and an understanding smile. Ewww.
When ITV do it well, they do it really well. What is setting 'Broadchurch' apart thus far is a confidence in that quietness between conversations, the pace unhurried, the writer Chris Chibnall showing his trust in the actors to do his bidding.
And with the cast of Tennant, Colman, Pauline Quirke looking suitably weatherbeaten, Jodie Whittaker underplaying her torrid mother's grief to a tee, and 'Harry Potter' star David Bradley in fine cragged form as the all-seeing shopkeeper, they haven't let him down yet, not even bespectacled Will Mellor in the unlikely guise of an engineer receiving messages from beyond the grave. If he manages to make that character as believable as the others over six more episodes, I'll take my hat off to him.
Popular in the Community