Today sees the release on DVD of one of ITV's winter triumphs - 'Mr Selfridge', with the title role taken by the mercurial Jeremy Piven (Entourage, Serendipity, RocknRolla).
To mark the occasion, HuffPost UK has an exclusive clip from the DVD's bonus features - WATCH ABOVE - what WOULD Mr Selfridge have to say about the store today, yellow bags and all?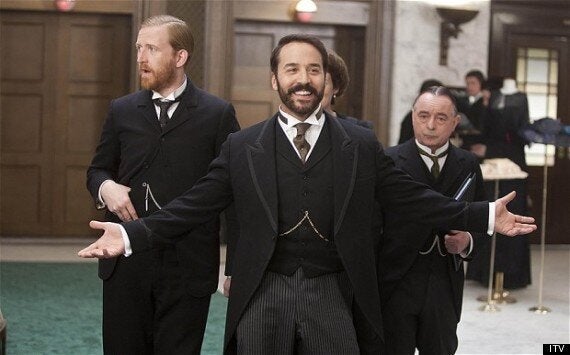 Jeremy Piven is Mr Selfridge
Back on the screen, it's London, its 1909, and the most important address in fashion's little black book is but a dust- covered dream strewn on a construction site at "the dead end of Oxford street".
The most decadent shopping emporium in the city's history exists only as a fanciful and implausible idea buried within the mind of an ambitious and erratic young man - Harry Gordon Selfridge.
As well as Piven gambolling around setting his store in order, supporting cast members include Zoë Tapper, Ellen Love, Amanda Abbington, Tom Goodman-Hill, Katherine Kelly, Frances O'Connor, and Samuel West.
Mr Selfridge, Series One, comes to DVD and Blu-Ray on 11 March 2013. Watch the trailer below...