Ostensibly one of the caveats of Pep Guardiola winning 14 trophies out of 19 in his four seasons with Barcelona was that he was blessed with a remarkable group of players, with one of them not much the "new Maradona" but Diego reincarnated. Despite running away with the Primera Liga, after a miserable month revisionists are now reconsidering their Pep talks, as managerless Barça teeter on the brink of Champions League elimination in the round-of-16.
2-0 down to Milan after an inept display at the San Siro three weeks ago, caretaker coach Jordi Roura must ready one of club football's most talented squads for their biggest challenge yet.
Guardiola's successor, Tito Vilanova, is receiving treatment for cancer in the United States and has been managing-by-phone, apparently. He may have cut the cord after recent results.
Real Madrid compounded the post-Milan blues with a superb performance at the Camp Nou in the Copa del Rey semi-final second leg. They won again later that week in an inconsequential league game, but Barça had lost more than just a Clásico. Mourinho's Madrid now frighten the bejesus out of Carles Puyol and Gerard Piqué with their breathtaking counter-attacks and have sussed them, just like Chelsea - in rather more fortunate circumstances - and Milan have. Barça's aura is also diminishing and judging by their reaction to defeat at the Bernabéu, so is their composure.
"You crapped yourself! Shameless!" Victor Valdés exclaimed at the referee after a second Clásico defeat in five days. Two years ago, it was Madrid who were doing the kicking and screaming as three of their players were sent off in four-Clásicos-in-a-month. Guardiola opted for a profanity due to Mourinho once, but his serenity spread to his players. Valdés was sent off for his Clásico outburst
At Camp Nou, Guardiola's outstanding weakness was he didn't appear to have a Plan B. Admittedly over 90% of the time he didn't need one but his two most chastening failures came in identical circumstances. Against Internazionale and Chelsea, Barça struggled to breach organised sides defending advantages in knockout ties. Of all the attackers on display against Inter in the 2010 Champions League semi-final 2nd leg, it was Gerard Piqué who beat Júlio César for a frenetic, yet fruitless, finale.
AC Milan will adopt the blueprint of their city rivals, as well as pinching Madrid's 2013 approach for Tuesday night's return fixture. Auspiciously, they have kept two clean sheets on the last three occasions they have faced Barça and Stephan El Shaarawy, Kevin-Prince Boateng and Giampaolo Pazzini annihilated their opponents on the counter last month. Xavi's long-range shot was Barcelona's one shot on target at the Giuseppe Meazza on an impotent evening.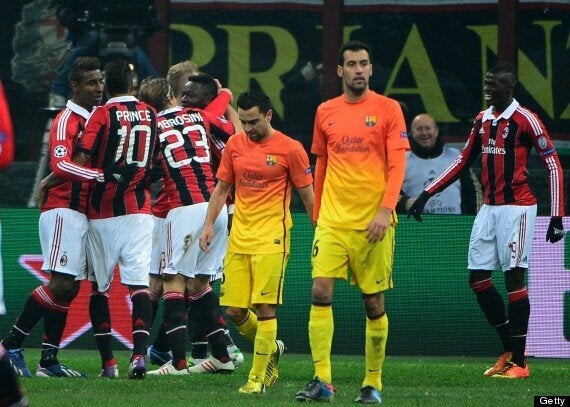 Barcelona trail 2-0 from the first leg in Milan
Barça have not been eliminated this early from the competition since Frank Rijkaard's penultimate campaign in charge in 2007. They were holders then, but the team had peaked. Ronaldinho was overweight, there was tension within the squad, Rijkaard's influence had waned and Rafael Benítez's Liverpool ended their defence early.
Now the danger for some of the world's best players is they could become defined by their coaches. Vilanova had overseen a near-seamless transition when he replaced Guardiola but the absence of the shepherd has left the lambs forlorn.
Managing an enviable collection of talent has become an unenviable task for Roura. Guardiola was left weary from the politics at the club and the draining effect of the by-monthly Clásicos while Roura, unqualified for the role, is vexed by the prospect of Champions League elimination and the health of his life-long friend across the Atlantic. Sympathy has come in short shrift from the Spanish dailies though, and his own brief tenure will be defined on Tuesday night.
Related