Mid-March travel misery has continued for millions with roads shut, trains cancelled and flights disrupted by the late blasts of winter.
After a night which saw hundreds of drivers trapped in treacherous conditions in Kent and Sussex, there were further hazards facing those who ventured out on Tuesday. Commuters wait for trains in freezing conditions at Haywards Heath train station
Jersey Airport was shut and Channel Tunnel train company Eurostar axed all services for the rest of the day due to adverse conditions in France and Belgium.
Many roads in Kent and Sussex were blocked by snow, with Kent Police warning that phase two of Operation Stack, where lorries are put in holding positions, could be implemented on the snow-hit M20. Huge queues of lorries on the M20
Train services on some busy commuter routes were hit by the conditions with a biting wind making temperatures seem lower than they were.
Passengers travelling with the Southern train company were warned to expect short-notice cancellations and delays of up to 60 minutes across the company's network.
No trains were running between Redhill in Surrey and Tonbridge in Kent, with no replacement bus service either.
On First Capital Connect, journeys between Bedford and Brighton were subject to short notice cancellations and delays of up to 45 minutes.
Southeastern services were delayed by a signalling problem between Paddock Wood and Strood in Kent, while there were cancellations to some Gatwick Express services.
Trains between Brighton and Victoria in London were only running hourly, calling additionally at Gatwick Airport and Haywards Heath.
Eurostar was running some trains early on Tuesday but had to suspend its London to Paris and Brussels operations when conditions worsened across the Channel.
The company hopes to run an amended service tomorrow with longer journey times.
About 500 passengers on a ferry from Ireland to France were forced to spend the night anchored off shore after the vessel failed to dock.
A number of French children on a school trip to Ireland were among those on board Irish Ferries vessel Oscar Wilde, which made numerous attempts to dock in Cherbourg in the north west of France on Monday. Not everybody was unhappy about the snowy conditions
Driving continued to prove hazardous for many Kent motorists.
Kent Police Acting Chief Inspector Kay Maynard said: "We have been trying to get to as many people as possible to offer reassurance as well as deal with problems on the roads caused by collisions and broken-down vehicles."
The force said it had dealt with hundreds of calls from motorists reporting collisions, broken-down vehicles and those that had to be abandoned as drivers had been unable to continue their journeys. Many minor and rural roads had become impassable.
Motorists in Kent were being advised to only travel if necessary.
Elsewhere, the A686 Hartside Pass in Cumbria was closed between Alston and Melmerby because of snow.
In Wales, strong winds led to speed restrictions on the M48 Severn Bridge in Monmouthshire, while in Somerset there were hazardous driving conditions on Brassknocker Hill in Monkton Combe.
A broken-down vehicle and a car fire led to hold-ups on the M25.
West Sussex County Council said its gritting fleet worked continuously on Monday and throughout the night, along with neighbouring authorities.
A spokesman said that in some areas high winds caused drifting, which meant the impact of salting was greatly reduced.
The council also said that some gritters were unable to salt their usual routes because of obstructions caused by abandoned vehicles and fallen trees.
Pieter Montyn, West Sussex's cabinet member for highways and transport, said: "It was a very difficult and frustrating night for drivers, and we fully appreciate the problems they faced."
Kent County Council said it has had 60 gritters out since Monday morning, treating 2,500 miles (4,000km) of primary and secondary routes.
JCB diggers have been mobilised to clear drifts and an army of farmers is helping the council clear vital back roads and rural routes.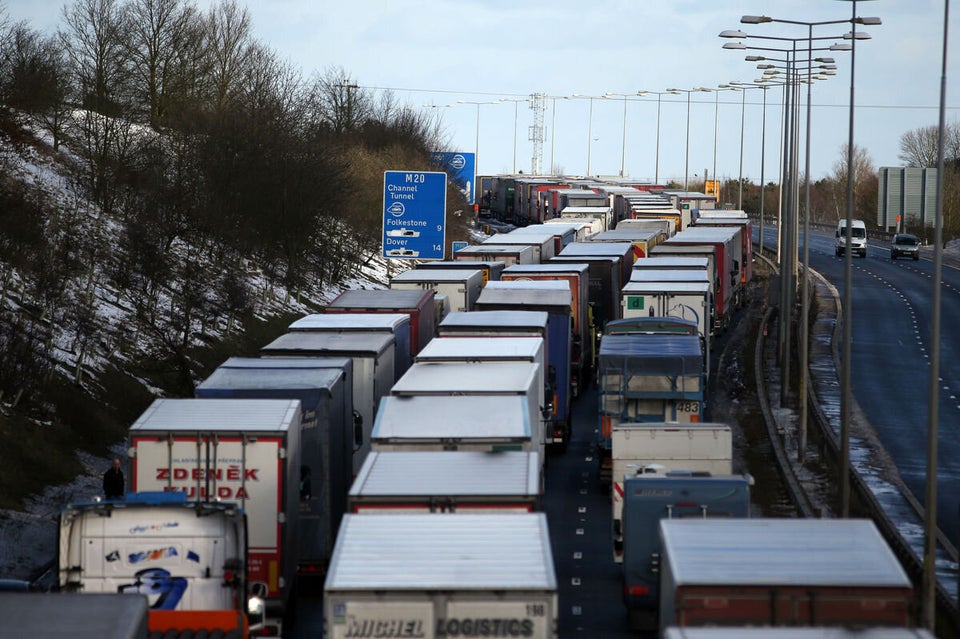 Spring Snow Showers