A Welsh Grandfather lauded as a hero when he wrestled a shark away from toddlers on an Australian beach has been sacked because he was on sick leave for stress at the time.
Paul Marshallsea, 62, was holidaying in Queensland with his wife, Wendy, 56, daughter Rachel, 21, when the incident happened, footage of which was shown on news networks in the UK.
Upon returning from holiday, Paul and Wendy received a letter from the charity they both worked for, Pant and Dowlais Boys & Girls Club, in Merthyr Tydfil, stating they were being dismissed, reports Wales Online.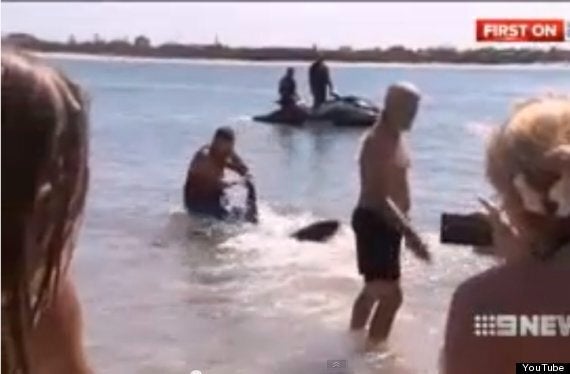 The shark very nearly bit Paul's leg
It read: "Whilst unfit to work you were well enough to travel to Australia and, according to recent news footage of yourself in Queensland, you allegedly grabbed a shark by the tail and narrowly missed being bitten by quickly jumping out of the way; the photographs and footage appearing in newspapers and television broadcasts."
Paul said: "If I hadn't gone in to save the kids on that beach that day my wife and I would still have a job.
"You think being in charge and running a children's charity, they would have tapped me on the back.
"Where do I now get a job? There's not much call for shark-wrestlers in Merthyr Tydfil."
The incident in January was captured by a local news crew, and footage shown on Sky News shows him wrestling the fish in the shallows and trying to guide it towards deeper water.
But as the shark thrashed to free itself, Mr Marshallsea fell into the waves, and the creature turned and snapped its jaws just inches from his leg.
Marshallsea said: "It just missed me with a bite, which was a fraction away from my leg. A shark that one minute ago was so docile now just nearly took my leg off."
Marshallsea, who was helped by another man, said his "instincts took over" when he saw a number of young children in the water, the Daily Mirror said.
"It's shallow for about six yards where the shark was and a lot of babies and toddlers splash about there," Marshallsea said. "It could have been very nasty.
"My instincts took over and I grabbed the shark by the tail. I know it was dangerous but it almost looked beautiful. You have to respect a beautiful animal.
"When I dragged the shark to just over knee-deep, he turned on me and just missed me with a bite. It nearly took my leg off in a split second. It was that quick."
Popular in the Community