Art lovers are getting the chance to step back in time in a Tate Britain installation, Phantom Ride.
Turner Prize-winning artist Simon Starling, who is famous for dismantling a shed and putting it back together again, has created the film work, "with a hint of violence".
Phantom Ride projects artworks which have previously been exhibited in Tate Britain's neo-classical Duveen galleries onto a six metre-wide (19.5ft) hovering screen.
Images include a damaged Tate Britain during the Blitz, as well as Elvis Presley holding a gun in a work originally shown as part of a Warhol retrospective in 1971.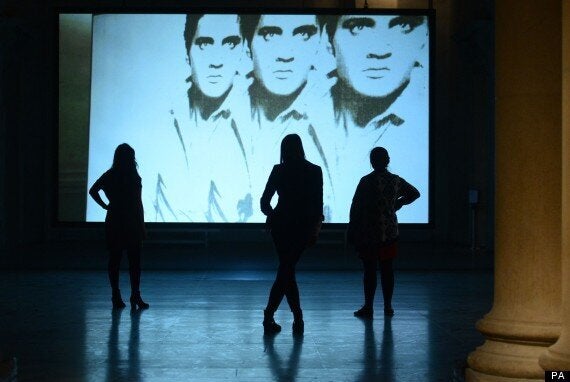 All the works featured, including Fiona Banner's decommissioned fighter jet plane, a medieval sculpture of St George after vanquishing his dragon, and Jacob Epstein's Rock Drill with its severed limbs, have "a hint of violence".
The artist said: "Phantom Ride was triggered by the discovery of a momentary rupture to this hermetic place.
"In 1940 the gallery roof was brought down by a bomb that hit the building and its grounds. We now float weightlessly over the rubble, tracking the shadows of past exhibitions and the ghosts of works seen here before."
Tate Britain is currently undergoing a makeover to change the way visitors see the gallery and its art.
Its director Penelope Curtis said that the film was "the perfect project with which to mark the emergence of Tate Britain from the building site".
Starling presented ShedboatShed, in which he dismantled a wooden shed which he found on the banks of the river Rhine in Germany, made it into a boat and sailed it down the river before turning it back into a shed again, during the Turner Prize exhibition in 2005.
Simon Starling: Phantom Ride, supported by Sotheby's, runs from 12 March to 20 October at Tate Britain.