Notts County will use heat lamps seized by police in raids on local cannabis farms to grow their Meadow Lane pitch.
The League One club said police had donated confiscated equipment which would previously have been crushed, standing them in good stead to combat the rigours of next winter.
The grow lights will heat up the soil and replicate warmer conditions.
Greg Smith, the club's stadium manager, told the BBC the donation had saved County thousands of pounds: "Normally to buy one rig you are looking at between £10,000 and £15,000.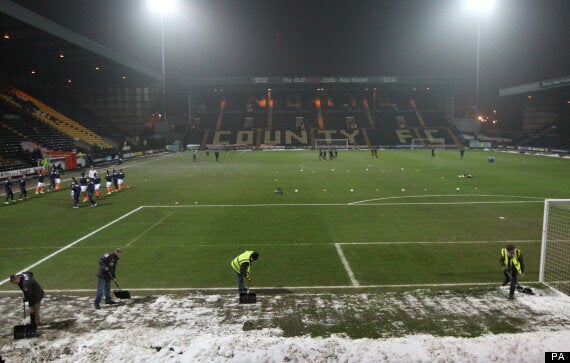 Notts County's Meadow Lane has struggled with the winter snowfall
"We've got a main stand that doesn't allow the light in during the winter. So, we can have them from the start of October through to the end of February, hopefully growing grass for us."
Supt Mark Holland added: "This property would normally be crushed, so it is important it gets reused and a lot of people are getting the benefit from it."
Students from Nottingham University are designing and building wheeled rigs to house the lamps.