With the triple whammy of Prince Harry's antics, a royal baby on the way, and HM The Queen trumping them all with a surprise parachute jump in front of a global audience, the Royal Family are as big box office as ever.
So it was not even a little-brainer for ITV to follow where the BBC led last year, with equally 'unprecedented' access behind doors at the various palaces.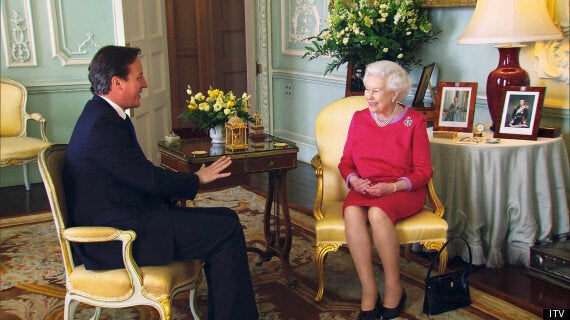 David Cameron has his weekly Audience with HM The Queen
Because we'd faithfully followed in Andrew Marr's footsteps last year on this same beat, not to mention ALL the other Jubilee tribute programmes, there was in fact, very little new to learn about all the goings-on. Nonetheless, it was refreshing to be able to view proceedings without looking over the shoulder of some genuflecting presenter - mercifully no Alan Titchmarsh in sight - and these cameras jostling for position between all their 'unprecedented' rivals managed to catch a few sweet nuggets, such as the following:
That when she's catching up with her Prime Minister for his weekly private Audience, the Queen likes to check that the electric fire in the grate is 'just so', with a neat nudge of the foot. And, even though she's at home, her handbag remains beside her at all times. Whether it's ever been used to bring any of her 12 PMs to order, of course, goes unrecorded.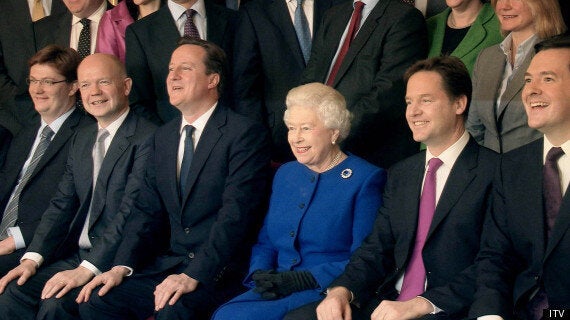 The Queen has met an estimated four million people during her 60-year reign
That while her hundreds of guests were quaffing on house wine for the Jubilee Lunch, the Queen and Prince Philip preferred their own tipples - in his case, the Duke's Ale, in her case a nice Gin and Dubonnet.
That the value of a single action by the Queen is worth a thousand words, most movingly when she entered both Anglican and Catholic churches in Northern Ireland, and then shook the hand of former IRA commander Martin McGuinness.
That while the Duke of Edinburgh was manfully withstanding an illness that later put him in hospital to monitor the Jubilee Armada, his eldest son looked distinctly queasy in the rain, as though he'd rather be curled up at Highgrove, munching on a Duchy Original and chatting to a pot plant.
That Sophie, Countess of Wessex, hardly heard in public since her engagement, has got a remarkably nice speaking voice.
That one of the tips the Countess of Wessex has learned from the Queen is to never say 'hello' or 'goodbye', to the estimated four million people she's encountered during her reign.
That everyone gets so nervous when they're talking to the Queen, they often interrupt her as she's replying. The poor lady seldom ever gets to finish a sentence.
"We don't do kitsch," said the Royal Curator in the ball room in charge of the Indonesian artefacts for the President's State Visit. But someone needs to tell the Buckingham Palace shop, where you can buy a Crown in a Box for £9.95, or a shower cap with the royal insignia for a mere £6.95.
Was there ANYTHING in this programme you didn't already know? And did you enjoy it, anyway?
Popular in the Community