Perhaps the weekend when it was decided which district of Manchester would house the Premier League trophy in the summer, the top of the table faded into insignificance as Aston Villa overcame Queens Park Rangers and Wigan's March-May Miracle got underway.
Here are seven talking points from the weekend's fixtures...
STOP ME IF YOU'VE HEARD THIS ONE BEFORE
Asked about Callum McManaman's career-threatening challenge on Massadio Haidara, Wigan coach Roberto Martínez replied "he's not that sort of boy" and "hasn't got a nasty bone in his body".
That phrase, and its derivatives, was perhaps first coined jointly by Malcolm Allison and Jimmy Hill regarding George Best's tackle on Glyn Pardoe in the 1970 Manchester derby, which left him with a broken leg. A dignified interview, Allison's reaction is frank and refreshing, which is all-too-rare from managers' post-match interviews in the modern era. And in the social media age in which the Football Clichés Twitter account humorously exposes textbook defence mechanisms, Martínez's defence of McManaman was unacceptable.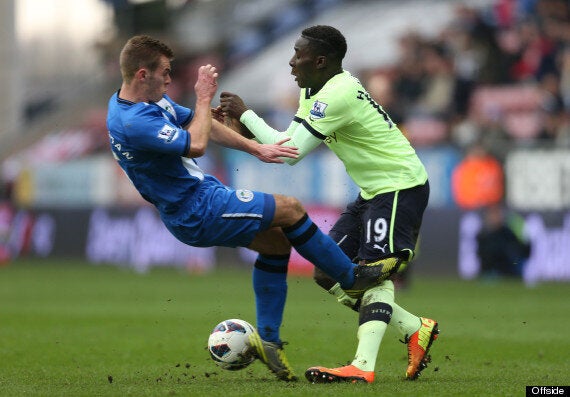 McManaman executes his horror tackle on Haidara
Hopefully, referee Mark Halsey will have the sense to report he did not see the incident clearly, rather than take the Martin Atkinson approach last year. It is the only valid explanation for why he didn't even award Newcastle a free-kick, let alone flourish a red card.
TECHNOLOGY SHOULD STRETCH BEYOND GOAL-LINE INCIDENTS
Newcastle's injured full-back Ryan Taylor made some erudite observations from his sofa after McManaman's tackle. The most memorable tweet was his description of it as "the definition of a 's**thouse tackle'", but it was what followed which should give the authorities food for thought.
"In them few minutes after the tackle why can't the ref or the 4th official look at a video for 5 seconds and help the ref out," he asked. It's hardly a new concept - José Mourinho nearly crushed a monitor in his last game as Chelsea coach when attempting to prove a linesman had erroneously deprived his team of a 2-1 lead. But if the Premier League is to use technology next season the scope is there to introduce retrospective analysis for incidents away from the goal-line.
Last week, yours truly mused how Arsenal's exit from the Champions League was an ominous sign for Tottenham. With the last chance of silverware dashed, Arsène Wenger could concentrate on retaining the club's Champions League status. And right on cue, Arsenal have returned to haunt Typical Tottenham and their chilly breath is giving the Lilywhites the shivers after their 0-1 defeat to Fulham at White Hart Lane.
David Pleat, Martin Jol, Juande Ramos and Harry Redknapp are all synonymous with Spurs collapses and André Villas-Boas is in danger of joining the group. The XI he selected for the Fulham fixture was inexplicable - the unreliable Benoit Assou-Ekotto was in midfield while Clint Dempsey, Lewis Holtby and Jermain Defoe were benched - and the outcome was unsurprising, as they lost their third game in four since the north London derby triumph. Carefree Arsenal are now just four points behind and with a game in hand. Gareth Bale gets that sinking feeling
One team plays well when the pressure is off, while the other doesn't play well when the pressure is on. Spurs' capitulation last season started not when Harry Redknapp upset their system but after a 2-0 victory against Everton. Several media outlets nonsensically speculated about how Spurs could win the league, so in their next match they drew 1-1 with the woeful Wolves team that would be relegated in late April.
Tottenham are a superior side than Arsenal but should they be leapfrogged again it will be as unsurprising as Villas-Boas' selection was surprising.
GRIT OUTWEIGHS GUILE FOR UNITED
Even against one of the Premier League's worst sides and with a caretaker manager whose most memorable contribution was brand plugging (Eamonn Dolan: "We know we are in the Barclays Premier League - the biggest league in the world") Manchester United were laborious against Reading. It was appropriate Wayne Rooney's winner was of the deflected variety in one of the season's most stultifying 1-0s, but it was symptomatic of the Reds' grit-over-guile style. Rio Ferdinand was United's outstanding performer against Reading
Cristiano Ronaldo and Carlos Tévez's departures in 2009 - along with the injury woes of the stricken Owen Hargreaves - deprived the squad of immense silk and steel and the 2011 title winners were not an especially memorable vintage. The elect-champions of 2013 are a more vibrant and ebullient outfit, and United have beaten teams by two goals or more 10 times this season, with 14 victories coming via a one-goal margin. Though such has been Manchester City's demise, Sir ALex Ferguson's side have often been comfortable in second gear.
EVERTON TRIUMPH CAN'T MASK REALITY FOR MOYES
Watching David Moyes storm onto the Goodison Park pitch, punch the air and whip his coat off to celebrate Nikica Jelavić's clincher against Manchester City felt like the moment which would prolong his matrimony with Everton. Contract talks are on ice, but the chastening reality for the Scot is should he walk away from L4 this summer none of the Premier League's big clubs will want him. The Tottenham vacancy which emerged last year will maybe be remembered as the missed chance he had of ascending in his career. GUZAN GOALKEEPER OF THE SEASON?
One of the worst seasons for Premier League goalkeepers, how ironic that one of the most porous teams boast one of the finest goalkeepers. Brad Guzan's performance in the defeat to Manchester City was lauded a fortnight ago but received minimal attention due to the outcome, yet his excellence against Queens Park Rangers was instrumental in Villa winning successive league games for the first time in almost two years. Jumping for joy: Guzan kept QPR's lead down to one goal in the first period
Hugo Lloris, perhaps the frontrunner for the team of the season by default, has in the meantime been held part-culpable for Stewart Downing's goal which has triggered Tottenham's annual (mini?) collapse.