The Government will speed up the introduction of a new, simple state pension system and a cap on the cost of social care, chancellor George Osborne has announced.
The single-tier pension will be introduced in 2016, a year earlier than previously planned, and would be a "huge boost" for people who want to save for their retirement.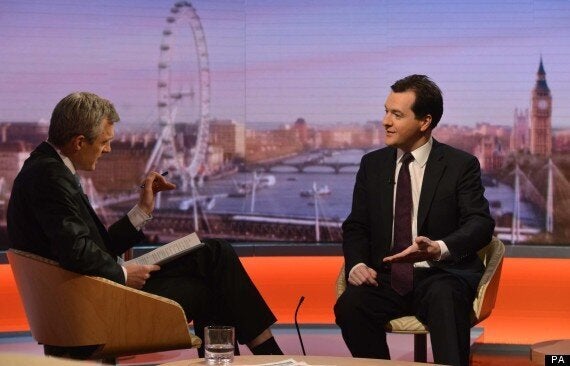 Osborne: 'A huge boost for people who want to save for their retirement'
The cap on social care costs, originally planned to be set at £75,000 and introduced in 2017, will now also be introduced in 2016 at a level of £72,000.
Osborne told BBC1's Andrew Marr Show it would mean people were "protected from the rather random costs of getting a disease late in life and seeing your home sold to pay for those care costs".
He said the cap, as recommended by the Dilnot Commission, would mean "you have to pay £72,000 of care costs but after that, for the rest of your life, those care costs will be covered by the state".
The single-tier pension is set to be worth around £144 a week.
Ahead of Wednesday's Budget, Osborne said that the "generous" pension would be "a huge boost for people who want to save for their retirement".
"That is another example of how this Government is helping people who want to save, people who want to leave something to their children like their home, people who want to get on in life, people who do the right thing.
"Those two decisions are going to be enormously helpful."
Joanne Segars, chief executive of the National Association of Pension Funds, questioned whether the Government would be able to implement the changes under the new timetable.
She said: "We are squarely in favour of these vital reforms but the Government must ensure that the implementation of these changes is workable for pension funds.
"This is a very tight timeframe and we have to wonder if it can be delivered.
"If the Government gets it wrong then this runs the risk of sparking a fresh round of final salary pension closures in the private sector.
"Businesses who get caught on the wrong side of these changes will lose a significant rebate from the end of contracting out, and they will question whether they want to continue running these pensions.
"It is essential to give pension funds the flexibility and time to adapt and make the changes.
"We have waited many years for these reforms. An overhaul of the state pension is long overdue and this simpler, fairer system helps set a clear foundation on which people can build their own savings.
"It would be a shame if big mistakes were made in a rush to implement the changes."
Michelle Mitchell, director general of the Age UK charity, said: "The Government's plans to bring forward the implementation of both the single tier pension and cap on social care to April 2016 are welcome but modest.
"We look forward to hearing more detail in this Wednesday's Budget.
"The current level of the cap on social care costs will temper rather than dispel anxiety for most around care costs and it is important that the real term value of the cap is lowered over time.
"The rise in the level of the means test will also provide much needed additional help towards the costs of care and we would hope that this will come into effect at the same time.
"The single tier pension goes a long way to ensure a safer, fairer system and help people better plan for retirement but it is important that the Government does not overlook the needs of the millions of current pensioners who are also struggling to make ends meet.
"With 1.7 million older people living in poverty now, a clear strategy and timetable for the reduction and abolition of current pensioner poverty is urgently needed."